Save 1,000 calories with these BBQ food and drink swaps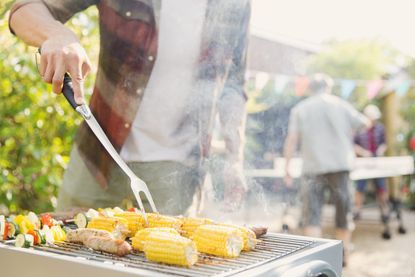 Looking forward to a Bank Holiday BBQ? These clever food and drink swaps could shed almost 1,000 cals off your calorie count.
Did you know that the average Brit consumes around 3,200 calories at a BBQ? That's according to research from Weight Watchers.
There's nothing we enjoy more than gathering up our nearest and dearest and enjoying lots of delicious BBQ recipes (opens in new tab) - especially when it's set to be a gloriously sunny weekend.
But when it comes to calories, the amount consumed at a BBQ can easily spiral out of control with fatty meats, calorie-laden marinades and sugary dressings, adding up to a high amount over the course of the afternoon - and / or evening!
Now we're not here to ruin your summer fun; quite the opposite in fact. As a few clever food and drink swaps will soon prevent you from piling on the pounds.
George Hamlyn-Williams, Principal Dietitian at the The Hospital Group explains: 'BBQs can be a minefield for those on a healthy eating plan, but they don't have to throw your diet completely off course. The Hospital Group have put together a selection of smart food and drink swaps to help keep the calorie count, fat consumption and sugar load under control this summer.'
Swap your Beef Burger for a Turkey Burger
Calories saved = 164 | Fat saved = 13G
Swap a Hot Dog for a Veggie Dog
Calories saved= 134 | Sugar saved = 26.6G
Swap Chicken Kebabs for Seafood Skewers
Calories saved = 146| Sugar saved = 3G
Note that fat is increased from 4g to 15g with this swap. So, if you're on a low-fat diet stick with the chicken option
Swap Pasta Salads with cheese for Healthier Pasta Salad with low fat dressings
Calories saved = 86| Fat saved = 10G
Save calories with these clever cocktail swaps
George Hamlyn-Williams has also shared his tips for navigating sugary and calorific cocktail menus: 'Unfortunately, the cocktail menu is often a minefield when it comes to excess calories and sugar; often laden with pre-mixed syrups and fruit juices with added sugars, a few cocktails around the pool can easily tot up to hundreds of calories and a massive proportion of your recommended sugar intake.'
He added: It's wise to find out how the cocktails are made and what ingredients are going into them, asking the bartender to make some simple swaps to your favourite cocktails will enable you to be in more control of your calorie and sugar intake.
'Fresh or frozen fruit in your Strawberry Daiquiri will be much more nutritionally beneficial than pre-mixed syrups and opting for the "low-calorie" mixers such as diet coke in a Cuba Libre or soda water in a Pimms, will significantly reduce the calorie count.
'It's also wise to consider alternative ways of sweetening cocktails such as adding a few crushed raspberries to a mojito instead of added sugar and opting for 'long' drinks that will last longer.'
Swap your Pina Colada for a Gin Fizz
Calories saved = 159| Sugar saved = 8.6G
Swap your Pornstar Martini for a Margarita
Calories saved = 80| Sugar saved = 15,07G
Swap your Long Island Iced Tea for a Cuba Libre
Calories saved = 103| Sugar saved = 11G
Remember: you could even opt for Diet Coke in the Cuba Libre to cut back on calories and sugar even more!
Swap a Strawberry Daquiri for a Cosmopolitan
Calories saved = 58| Sugar saved = 9G
Lauren is a senior content editor covering everything from the latest royal news to fashion, beauty and health content. Lauren graduated from her masters in magazine journalism in 2011, quickly making the transition over to digital and has never looked back. From getting out a breaking news story to penning an in-depth feature, she loves the variety of writing for digital platforms.