Food hack: Speedy fondant Christmas trees
Make speedy fondant Christmas trees with this simple hack that will transform fondant into a Christmas tree cake decoration using just a pair of scissors! This handy hack will show you how simple it is to transform fondant into a Christmas tree cake decoration. This results will look perfect on top of your Christmas cake. You'll never buy readymade fondant Christmas decorations again!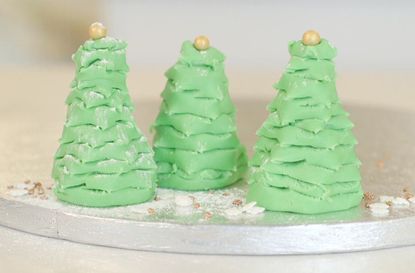 This handy hack will show you how simple it is to transform a blob of green fondant icing into a festive Christmas tree. All you need is some green fondant, a pair of scissors and a steady hand. Got a Christmas cake that's ready to be decorated? You'll want to try this nifty little trick to finish off your festive cake in style. We're going to show you how easy it is to make a fondant Christmas tree. You can dust this delightful little tree with icing sugar and sit it proudly on top of your Christmas cake.
This trick is so easy that the kids could give it a try too (with adult supervision, of course).
For this food hack, you will need:
250g green fondant 4 cake pops or lollipop sticks Small scissors Icing sugar (optional)
So, do you want to know how to make your own? Follow our simple step-by-step instructions below. You're going to love making these festive trees in a matter of minutes...
Roll out 250g green fondant into a sausage shape.
Cut into 4 pieces and taking 1 piece at a time, roll into a Christmas tree shape.
Push onto a cake pop or lollipop stick and hold in one hand.
Snip into the green fondant with scissors (the smaller the scissors, the better!).
Rotate the tree to make branches. Continue until you get to the base of the tree and then carefully remove the tree from the stick. Place onto a board to dry.
Have you given this food hack a go? Share your pics with us on our Facebook page: goodtoknow Recipes. We love seeing what you've been making!
Victoria Threader is 'the queen of cupcakes' and a contributing Recipe Writer at GoodTo. Not only can she bake delicious cupcakes, she can decorate them too - with each of Victoria's cupcakes topped with handmade edible toppers. Some of her most popular cupcakes include: rainbow cupcakes, hidden shape cupcakes and even giant cupcakes.