10 Poundland summer saviours every mum needs
If you're looking for cheap ways to keep the kids entertained this summer, mummy vlogger Sarah has come back from Poundland with a big haul...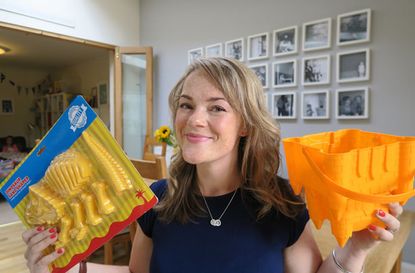 Our Kids Kitchen (opens in new tab) mummy vlogger Sarah has gone to Poundland and come back with a whole haul of summer holiday essentials!
Find out how to make life easier for yourself when you're planning a picnic with the little ones and how you can keep the kids entertained for a pound!
1. Foldable drinks bottle
These are super handy when 'you're having days out', because 'once you're finished with them, they lie flat so they don't fill up your whole bag'. Ideal for when you're out and about all day!
2. A food cover
'I always remember my mum having these', and they're really useful for keeping bugs off your food if you decide to have a picnic or barbecue outside. 'It's a great buy for a pound'.
3. Cool bag
'It's a great reason to have a picnic, if ever I heard one!' - and we couldn't agree more! Fill it up with your sandwiches, drinks and anything else you want to keep cool on a hot summer's day and it'll still be nice and fresh by the time you get it out.
4. Plastic tumblers
These bubble-texture plastic tumblers are 'great for your outdoor dining', because 'they feel really sturdy'. Do away with disposable paper cups and try these instead, for a more grown-up picnic!
5. Disposable plates and cups, and colourful napkins
These are a must if you 'are embracing the picnic life over the summer'. You can't go wrong with them and you can get your hands on loads of bits, all for a pound... Bargain!
6. Skip Ball
Moving onto summer activities and keeping the kids entertained, Sarah's found some retro kids toys, like Skip Ball. 'I haven't seen these for years' she says, and adds 'I'm super excited to teach the kids how to play'. A really cheap and fun activity you can do with the kids.
7. Frisbees
You really can't beat a game of frisbee at the park, and with these colourful choices, both the kids and grown-ups will love playing! Sarah's looking forward to taking them away this weekend for 'some games on the beach'.
8. Dinosaur sand shaper
'You fill the moulds and make your own pretend dinosaur' - it's a fun alternative to making a sandcastle and the kids will love trying something new.
9. Sandcastle bucket
Quite simply because 'you need a sandcastle bucket when you're going to the English seaside'. We think Sarah's summed it up perfectly!
10. A trowel and some plant bulbs
Harriet wanted to plant something this summer, so Sarah's managed to pick up a trowel and some plant bulbs for a pound each and says, 'the bulbs will be ready for next year and we're going to plant together'. This is a lovely activity to do with the kids and will keep them entertained for a good length of time too.Save