Swizzels want you to invent a sweet in their factory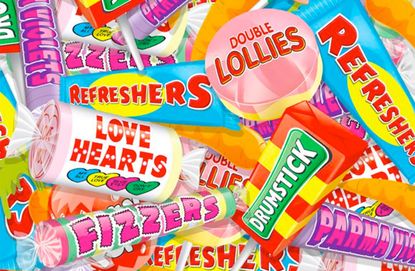 Fancy being like Willy Wonka and coming up with an everlasting gobstopper, lickable wallpaper or even chewing gum that has the flavour of a three-course dinner? Now's your chance.
Swizzels is searching for someone to invent their own sweet in its factory. If you have a sweet tooth, the confectionary giant is giving you an opportunity to channel Roald Dahl's famous character and create your own 'Sweetest Invention'.
To celebrate its 90th year of creating some of our favourite sweets including Love Hearts, Drumsticks, Double Lollies and Parma Violets, Swizzels wants to produce a treat invented by someone who loves their sweets.
The winning inventor will be treated to an VIP tour of the Swizzels factory to not only see how their famous sweets are made, but to see their own sweet brought to life.
A panel of Swizzels judges will whittle it down to the four most innovative sweet creations from the entries submitted online. The winner will then be selected by a public vote. And it will end up on the shelves in shops alongside Refresher bars, Fruity pops and Fizzers.
You can submit your entry here (opens in new tab) and also look at the 'inspiration gallery' to give you some ideas.
Jeremy Dee, managing director of Swizzels said: 'We're hugely proud to be celebrating 90 years of Swizzels. We've stood the test of time thanks to our loyal fans, both old and new, with some having enjoyed our classic inventions for decades.
'We've been busy coming up with exciting inventions for generations, and now it's time for our fans to get creative and help us make the next big sweet invention!'
Emma Herring, new product development manager at Swizzels added: 'We're calling on our fans to come up with weird and wonderful flavour combinations or new twists on classic tastes. The winner will get to work with our product development team to see their ideas become a reality. Good luck!'
In the book Charlie and The Chocolate Factory, Willy Wonka ran a competition where children won the chance to go to the inventor's factory and see his incredible inventions if they found one of the five golden tickets. Johnny Depp played the crazy creator in the 2005 version of the film.
Anna Bailey is the editor of GoodTo. She joined the team in June 2018 but has been a lifestyle writer and online editor for more than 14 years. Anna graduated from Bournemouth University in 2004 with a degree in Multimedia Journalism and went on to gain her NCTJ and NCE journalism qualifications. She began her career in local journalism, working as a reporter for the Basingstoke Gazette in Hampshire. As Lifestyle Editor for ITV.com she managed the websites for the broadcaster's best-loved shows including This Morning, Loose Women, Coronation Street, Emmerdale, Coleen's Real Women, and Britain's Best Dish. Before joining Goodto.com she was also a Features Editor at MSN UK and Digital Lifestyle Editor for the broadcaster UKTV. She's also contributed to The Mirror, The Sun, LoveFood, LoveExploring, and TBSeen.