Which Pizza Express restaurants are closing in the UK?
They're closing up to 75 restaurants...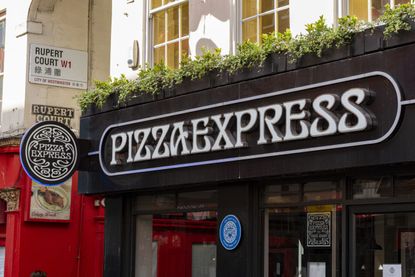 (Image credit: Getty Images)
Pizza Express appears to be one of the latest restaurant chains hit by the coronavirus pandemic, as they announced earlier this month that they were closing many of their UK restaurants.
The popular high-street staple has more than 470 UK restaurants, and a further 150 outlets internationally. But it seems that following struggles under heavy debts, there are plans to shut down just under a quarter of their eateries after the coronavirus (opens in new tab) pandemic.
Pizza Express proposing to close 73 of their restaurants could put 1,100 jobs at risk as part of a major restructuring of the business.
Pizza Express' managing director for the UK and Ireland, Zoe Bowley said, "Unfortunately, the impact of the global pandemic has meant that we have had to make some incredibly tough decisions to safeguard Pizza Express for the long term."
She said that it was a decision to "protect the jobs of over 9,000 of our colleagues."
However according to reporting from BBC News, she did say assure the public that in many cases, the restaurants closing down were near to another Pizza Express that has either reopened since the lockdown (opens in new tab) or will reopen soon.
Pizza Express is one of the 84,000 restaurants who took part in the Eat Out to Help Out scheme in August, but unlike some others, it looks as though the chain won't be offering discounts into September (opens in new tab) as well.
Pizza Express closures: Which Pizza Express restaurants are closing in the UK?
So which Pizza Express stores are closing? After a couple of weeks' wait, Pizza Express have now announced which of the chain's restaurants are closing, with the final number sitting at 73 after agreements were made to reduce rental costs.
MORE: When will soft play centres open up again?
These Pizza Express restaurants are closing down:
Aberdeen, Belmont St
Aylesbury
Barnstaple, Three Tuns
Biggleswade
Billericay
Birmingham, Corporation St
Birmingham, Mailbox
Bournemouth, Post Office Road
Bramhall
Bristol, Berkeley Square
Bristol, Regent Street
Bromsgrove
Bruton Place, London
Charlotte Street, London
Chippenham
Dalton Park
Darlington
Dudley, Merry Hill
Earls Court, Earls Court Road, London
Edinburgh, Holyrood
Formby
Fulham Palace Road, London
Glasgow, Princes Square
Glossop
Gosforth
Grantham
Halifax
Hampstead, London
Hatch End
Hereford
Heswall
Ipswich, Lloyds Avenue
Leeds, Crown Street
Leeds, Horsforth
Ludlow
Lymington
Melton Mowbray
Midhurst
Milton Keynes, Hub
Moseley
New Brighton
Newcastle
Newport, Isle of Wight
Newport, South Wales
Northallerton
Nottingham, Goosegate
O2 Finchley, London
Orpington
Oxford, Oxford Castle
Poole
Port Solent
Ramsgate
Reading, St Mary's Butts
Scarborough
Sheffield, Devonshire Street
Sheffield, The Moor
Shirley
Southport, Old Bank
Stafford
Staines
Stoke
Stourbridge
Sudbury
Torquay
Uxbridge
Wakefield
Walsall
Wapping
Wardour Street, London
Weston-super-Mare
Whiteley Village
Whitstable
Wrexham
Despite this, Pizza Express have opened a number of stores for business again following the lockdown, which saw all restaurants temporarily shut down. You can see the full list of restaurants open for dine-in, click and collect, and delivery here (opens in new tab).
How many Pizza Express branches in the UK - and where are they?
There are currently over 470 Pizza Express restaurants in the UK, with over 150 overseas, according to the business's latest Annual Report (opens in new tab). There are 670 restaurants in total in the UK and Ireland. After the closures there will be just under 400 restaurants across the UK.
Outside the UK, there are Pizza Express branches in Europe, Hong Kong, China, India, Indonesia, Kuwait, The Philippines, The United Arab Emirates, Singapore and Saudi Arabia.
Which other businesses are closing down venues?
Pizza Express are not the only casual-dining venue to be hit by the coronavirus crisis.
During the pandemic, it was announced that Cafe Rouge would be shutting down 31 of their restaurants (opens in new tab).
It is said that the company they are owned by, the Casual Dining Group, are having discussions around insolvency.
Bella Italia and Las Iguanas, which are also owned by the group, may also be subject to closures too.
And it's not just restaurant chains struggling in the wake of Covid-19.
Boots (opens in new tab) and John Lewis (opens in new tab) have also just announced some major store closures, with the latter set to shut down eight of their department stores.
Other businesses such as baguette shop Upper Crust, and airline company British Airways are also making cuts following the pandemic.
Amy is Senior Digital Writer across Woman & Home, GoodTo and Woman, writing about everything from celebrity news to health, fashion and beauty features. When she isn't obsessing over the latest dress drop from Marks & Spencer, you'll most likely find Amy out running, or with a cup of tea in hand ready to dive into a gripping new Netflix series.