Why homemade bread is so much healthier than shop-bought
Stop buying bread – it's cheaper, easier and much healthier to make it at home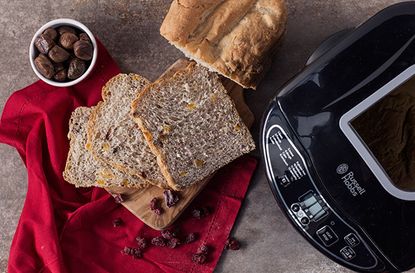 Stop buying bread – it's cheaper, easier and much healthier to make it at home.
The smell of a freshly cooked loaf is unbeatable, yet few of us feel we've got time to bake from scratch, especially when it's so easy to pop down to the shops to buy bread.
But have you stopped to think about exactly what's in your loaf? According to the traditional bread recipes, it should contain nothing but flour, yeast, salt and water – so what are all those other ingredients listed on the packaging?
Hot on the heels of The Great British Bake Off, now's the perfect time to stage a comeback for home-made bread. And as it's so much healthier too, what's stopping you from making your own? Could it be the endless kneading and proving you haven't got time for? No problem – the Russell Hobbs Compact Breadmaker takes away all the fuss and hard work, guaranteeing a professional finish every time. And with 12 settings to choose from, your perfect loaf is on the way, at any time of day.
Why you should make your own bread
Here are just some of the great reasons to make your own bread.
You know exactly what's going in it
It's easy to be selective about the amount and quality of the ingredients you use. Whether it's choosing the finest organic flour, banishing sugar, or adding tasty extras like herbs or olives, the choice is yours.
There are no hidden additives
Many shop-bought loaves are loaded with additives, salt, emulsifiers and enzymes just to keep the bread softer for longer. It's time to discard the nasties and stick to what's natural.
You'll save money
Yes, baking your own bread can save you money in the long term – and when you think of the quality of bread you're baking, it makes perfect sense. Plus nothing beats that freshly-baked aroma.
It's adaptable
Make your bread your way. Add in seeds for extra crunch and nourishment, sweeten it naturally with fruit or introduce flax for those essential fatty acids. Got a food allergy? Go gluten-free or skip the eggs.
The taste is unbeatable!
Most importantly, with all those delicious ingredients, your freshly baked loaf means your tastebuds are in for a treat.
However you like your bread – whether it's white, wholemeal, gluten-free or French – the Russell Hobbs Breadmaker can whip you up a fresh loaf you'll love, with no mixing, kneading, proving or baking necessary. And, with a 55-minute fast-bake option and a 13-hour-delay timer so you can wake up to fresh bread first thing in the morning, it fits into your life perfectly.
That's what we call tasty…
Buy the Russell Hobbs Breadmaker now!
Trusted, informative, and empathetic – GoodTo is the ultimate online destination for mums. Established in 2007, our 15-year-strong archive of content includes more than 18,000 articles, 1,500 how-to videos, and 7,000 recipes.