Where is Shamima Begum now?
The 23-year-old still hopes to return to the UK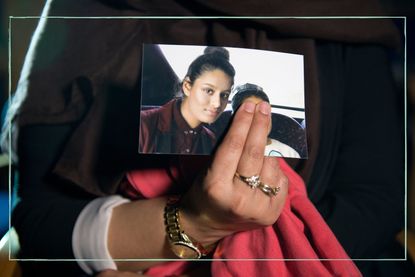 (Image credit: Getty Images)
Many are wondering where is Shamima Begum now? The former London schoolgirl who travelled to Syria in 2015.
At just 15-years-old, Shamima Begum left her home in Bethnal Green along with two other schoolgirls - Kadiza Sultana, 16, and 15-year-old Amira Abase - and travelled to Syria to join Islamic State, also known as ISIS. She first made headlines in February 2019 when she announced her desire to return to the UK - news which divided opinion across the country and further afield.
While some believe Begum was groomed and should be allowed to return to the place she grew up in, others think she should face the consequences of her decision to join Islamic State. Four years on from her plea to return to the UK, many are wondering what happened to the former Bethnal Green schoolgirl. So, as the BBC releases a new documentary allowing Begum to tell her own side of the story, we take a look at where is Shamima Begum now.
Where is Shamima Begum now?
Shamima Begum is currently being held in a detention camp in north-east Syria. Speaking from the Al-Roj prison camp in July 2022, she told iNews that she expects to spend the rest of her life in Syria.
The publication said that Begum "lives in the so-called 'de-radicalised' side of the camp alongside other female prisoners and their children." They add: "She has ditched traditional Islamic garb and wanders its dusty streets wearing a t-shirt, leggings and large sunglasses."
At 15, Shamima Begum ran away from her London home to join the Islamic State group in Syria. Now she wants to come back. Josh Baker has followed the story since Begum left the UK in 2015. In this series he investigates what really happened.Listen on BBC Sounds now ⬇️January 11, 2023
See more
Shamima Begum has been imprisoned in the Al-Roj camp since 2019, when coalition forces defeated Isis in Baghuz.
More recently, Shamima Begum has reappeared in the news after the BBC released a 10-part podcast called The Shamima Begum Story and an accompanying documentary available on iPlayer, in which she tells the story of how she joined the terror group and her experience of life in a refugee camp.
In the podcast, Begum tells journalist Josh Baker: "This is, I feel, worse than a prison I think it's because at least with prison sentences you know that there will be an end but here you don't know if there's going to be an end."
The podcast has been criticised by people who see it as 'giving terrorists a platform', and writer Wasiq Wasiq tweeted, "While the victims of grooming gangs are still trying to be heard and get justice, Shamima Begum manages to land 10-part podcast on the BBC."
However, the broadcaster has defended the project, saying: "This is not a platform for Shamima Begum to give her unchallenged story. This is a robust, public interest investigation into who she really is and what she really did."
What did Shamima Begum do?
Shamima Begum left the UK in 2015 to join IS with two other schoolgirls. Once in Syria, the 15-year-old married a Dutch man, Yago Riedijk, who was a convert to Islam and a convicted terrorist.
In the new BBC documentary, Shamima describes how her and her school friends became religious at around 15, after another friend's mother died. She explained how her friend told them about other teenagers had already left the UK to join ISIS, and that they should go too.
After the friend left, Shamima kept in contact with her and was eventually persuaded to join her in Syria.
In February 2019, The Times' war correspondent, Anthony Loyd, found Begum in the al-Hawl refugee camp in north-east Syria. She was nine months pregnant and shared that she hoped to return to the UK to raise her child, but said at the time that she doesn't regret joining IS. She also reveals that she had had two other children who died of malnutrition.
Shortly after Begum gave birth, then-Home Secretary Sajid Javid announced plans to strip Begum of her citizenship on the grounds that she posed a danger to the UK.
In October 2019 Begum started an appeal against the Home Office's decision, and in July 2020, the Court of Appeal ruled that Shamima Begum should be allowed to return to the UK in order to contest the decision to revoke her citizenship.
However, in February 2021 the ruling went to the Supreme Court, which voted unanimously against the decision to allow Begum back to the UK to fight her case.
What happened to Shamima Begum's two friends?
Kadiza Sultana and Amira Abase left the UK with Shamima Begum, and both are believed to have died in Syria during separate air strikes.
In the documentary, Shamima explains how she met her friends when she was 11, with an anonymous participant in the film describing Amira as "outspoken" and a member of several clubs and societies, while Kadiza was "tall" and "beautiful".
Shamima added, "We were all different, but we fitted together like pieces of a puzzle."
Sultana married an American Islamic State fighter and told her family - who she kept in contact with - that she was a housewife. However, intelligence sources believe she was involved in stitching explosives into suicide vests.
She is believed to have died in a Russian air strike in 2016, though this has never been confirmed.
Amira Abase married 18-year-old Australian Islamic State fighter Abdullah Elmir, who was killed soon after following a drone strike in December 2015. Abase also kept in contact with family, using social media to talk to her mother. However, when these messages stopped abruptly Amira Abase's mother told press that she believes her daughter is dead.
Does Shamima Begum have UK citizenship?
No, Shamima Begum does not have UK citizenship. In February 2020, a tribunal ruled that removing Ms Begum's citizenship was lawful because she was 'a citizen of Bangladesh by descent'.
However, Begum has never visited Bangladesh. Authorities in the country have said she does not have citizenship, and she would not be allowed in, leaving Shamima Begum stateless.
Statement from me on Supreme Court's Shamima Begum decision: pic.twitter.com/2rCFzbIR1rFebruary 26, 2021
See more
In the documentary, Shamima describes how during her school years she "didn't feel British of Bengali."
She said: "I didn't feel Bengali because I didn't want to be Bengali, and I didn't feel British because I feel like I wasn't able to be British - even though I wanted to be."
She added, "I didn't feel like I was accepted by society because of racism and other things."
What is happening to Shamima Begum now?
Shamima Begum is currently appealing to restore her UK citizenship. But when asked as part of the documentary where she sees herself in seven years, Shamima replied, "I'll still be in this camp."
In July 2022, Begum made a new plea to be allowed to return to the UK. Speaking to iNews, she said she should be used as an example to counter extremism. "The problem is at the age of being a teenager you're very arrogant and you don't listen to people, so sometimes you really do have to learn the hard way.
"I could be used as an example, like you don't want to end up like her. If it stops children making the same mistake that I made of course use me as an example."
In November 2022, Begum's appeal over the removal of her UK citizenship for joining Islamic State began in a London court. Her appeal is based on claims that she was a victim of child trafficking, because she was allegedly smuggled into Syria by a Canadian spy - a revelation that was uncovered in the book The Secret History of the Five Eyes by Richard Kerbaj.
Begum's lawyers say that she is a victim of grooming and child trafficking, and that she has been left in "exile for life." However, the British Government maintains their position that she is a threat to security, and that she willingly joined the terror group.
Video of the Week
Ellie is Goodto's Feature Editor, having joined the team as a Junior Features Writer in 2022, and covers everything from wellbeing for parents to the latest TV and entertainment. Ellie has covered all the latest trends in the parenting world, including baby names, parenting hacks, and foodie tips for busy families. She has a distinction in MA Magazine Journalism from Nottingham Trent University and a first-class degree in Journalism from Cardiff University, and previously Ellie has worked with BBC Good Food, The Big Issue, and the Nottingham Post, as well as freelancing as an arts and entertainment writer alongside her studies.