When is the budget? Date, time and what to expect in the Spring Budget announcement 2023
It will be Jeremy Hunt's second statement since he became Chancellor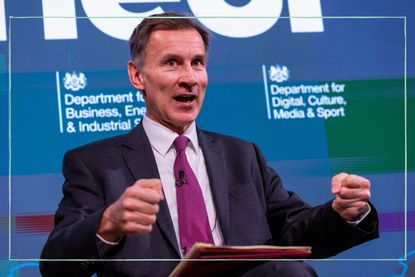 (Image credit: Getty Images)
Chancellor Jeremy Hunt (opens in new tab) will soon announce the Spring Budget, and many are starting ask when it will be and what to expect.
Just like the public wanted to know when the autumn budget was (opens in new tab) back in winter 2022, the ongoing cost of living crisis has many keen to know more about the Government's fiscal plans for the future, and the Spring Budget is one way to get an insight into these.
The announcement will be Mr Hunt's second statement since he became Chancellor, the first of which came just weeks after his predecessor Kwasi Kwarteng's heavily criticised mini budget (opens in new tab). The Spring Statement will provide an update on the economy since the last budget, and here we reveal when the 2023 budget is.
When is the budget 2023? Date of the spring budget
Chancellor Jeremy Hunt announced on 19 December that the Spring Budget will be held on Wednesday 15 March. You can watch live coverage of the budget on BBC Two or on ITV.
The Spring Budget is a statement made to the House of Commons on the subject of the nation's finances and any proposed changes to taxation. Jeremy Hunt's speech will accompany a lengthy budget document containing more detail about policy changes, and it will be broadcast live.
What's our racing strategy to become one of the most prosperous economies in Europe? Watch my latest video to find out one of the most important ingredients👇 @McLarenF1 @McLarenAuto pic.twitter.com/dAeVhA8y8FFebruary 16, 2023
See more
The announcement comes alongside an updated economic forecast for growth and the public finances from the Office for Budget Responsibility (OBR), which which assesses the impact of government policy decisions.
What time is the budget?
An exact time for the budget hasn't been announced, but it usually takes place around 12.30, after Prime Minister's Questions.
BBC Two will be broadcasting live coverage - including the reaction from opposition party leaders - from 12.30pm, while ITV will start their broadcast at 12.15pm.
What to expect from the Spring Budget 2023
Energy bills
The Energy Price Guaranteed (opens in new tab) (EPG) - which limits the amount suppliers can charge - is due to rise from £2,500 to £3,000 on 1 April. But with charities and money saving expert Martin Lewis urging the government not to increase the EPG, it's possible that we may see a change to this policy.
The Chancellor is expected to extend the current Energy Price Guarantee until July, rather than increasing it, and the Treasury has already confirmed a £45 energy bill cut for families with prepayment meters (opens in new tab).
Fuel and alcohol duty
In last year's Spring Statement, a 5p cut per litre to fuel duty was announced, which is due to finish at the end of March 2023. Though fuel prices have come back down (opens in new tab) again after 2022 saw a huge increase, the Office for Budget Responsibility has forecast that 12p a litre would be added to pump prices if the government don't act.
This has led to speculation that the chancellor could extend the fuel duty freeze in his Spring Budget.
Pensions
It is expected that Jeremy Hunt will announce a rise in the state pension age. Currently, people can start drawing their state pensions when they turn 66, but this is due to increase to 67 between 2026 and 2028, and to 68 from 2044-2046.
However, there is speculation this could be brought forward to the mid-2030s, amid a back to work drive that aims to tackle worker shortages in many industries.
Childcare
Families on universal credit (opens in new tab) could get more help - receiving childcare funding upfront, instead of having to claim it back - and there's also talk that an expansion to free childcare (opens in new tab) could be announced, to help parents get back to work.
However, Jeremy Hunt has previously indicated that more childcare support for other families is unlikely as it would be "expensive".
What is the difference between the Autumn Statement and Spring Budget?
The Government typically announces significant policy changes in the Autumn Statement and lesser changes in the Spring Budget, as the two announcements serve different purposes.
While the November budget outlines the government's spending and taxes, the Spring Budget gives an update on the economy as well as outlining any further government changes - though these are usually minor in comparison to the ones made in autumn.
Related money features:
Video of the Week
Ellie joined Goodto as a Junior Features Writer in 2022 after finishing her Master's in Magazine Journalism at Nottingham Trent University. Previously, she completed successful work experience placements with BBC Good Food, The Big Issue and the Nottingham Post, and freelanced as an arts and entertainment writer alongside her studies. In 2021, Ellie graduated from Cardiff University with a first-class degree in Journalism.