This Black Forest loaf cake has an all-in-one method making it quick and easy to prepare and leaves you with minimal washing up.
If you love Black Forest gateau we think you'll enjoy making this easy cake. All the ingredients for the cake batter are mixed in a large bowl to save you on washing up. We recommend using a loaf tin but you could also use a round cake tin if that's all you have. The cooking time will vary so check the cake after 20-30 mins of cooking to see if it needs the full time.
Ingredients
175g caster sugar
175g self-raising flour
175g softened butter
3 eggs
1 tsp vanilla extract
4 tsp cherry juice
1 tbsp lemon juice
1 tbsp Kirsch cherry liqueur (optional)
¾ level tsp baking powder
To decorate:
Small handful mixed cherries, fresh and glace
50g white chocolate, melted
75g dark chocolate, melted
A little edible glitter
50g milk chocolate, cut into chunks
Method
Heat the oven to 180C (160C fan, Gas 4). Lightly grease a 900g (2lb) loaf tin and line with a sheet of baking paper.
Add the sugar, flour, butter, baking powder, eggs, vanilla, cherry and lemon juice and Kirch to a large bowl. Use an electric hand mixer to beat the ingredients to a smooth cake batter. Transfer to the cake tin and bake in the centre of the oven for 40 minutes, or until golden and firm to touch.
Meanwhile, dip some of the cherries into the white chocolate so they're half covered, sprinkle the chocolate side with edible glitter, if using, and set aside to dry.
Once the cake has cooked and cooled completely, drizzle over a little of the melted dark chocolate then scatter over the cherries and the chocolate chunks. Drizzle over the rest of the chocolate sauce. Allow the chocolate to set for a few minutes before slicing.
Top tips for making a Black Forest loaf cake
The flavours of this Black Forest loaf cake are based on the classic German dessert. Serve this cake with a generous squirt of whipped cream for the full Black Forest effect. If you want to make it more of a drizzle cake we have tips below as well as how to make the sponge chocolatey for a richer bake.
How long should I leave a loaf cake to cool before turning it out?
Anything baked in a tin should be left to cool inside the tin for about 10 minutes before you attempt to turn it out. Do it too soon and you risk the cake sticking to the pan.
How can I make a Black Forest drizzle cake?
Make a syrup from a little cherry and lemon juice and granulated sugar. We'd recommend a couple tablespoons of cherry juice and the juice of a quarter to half a lemon mixed with 100g granulated sugar. When the cake comes out of the oven, poke some holes in it using a thin skewer and pour over the drizzle. Allow it to soak and cool in the tin before decorating with the melted chocolate and cherries.
How can I make a chocolate Black Forest cake?
The classic flavours of Black Forest include chocolate, cherry and cream. To boost your chocolate hit in this recipe, consider swapping 50g flour for a dark cocoa powder instead. You could also add some cherries to the cake batter. Toss in a little flour before folding into the batter to bake.
How is Black Forest cake different from normal cake?
The main difference is the favour. Black Forest cake combines the flavours of chocolate, cherry and cream. Some Black Forest cakes will use fresh cream but others will use buttercream which is more stable and doesn't require refrigeration. Some Black Forest cakes will also consist of more than two layers of cake to try and replicate the original gateau dessert. Our loaf cake is a much simpler recipe that channels the flavours of Black Forest but is not visually similar to a traditional cake or gateau.
To bake this recipe we recommend using a 900g (2lb) loaf tin. If you don't have one, consider buying this Great British Bake Off tin.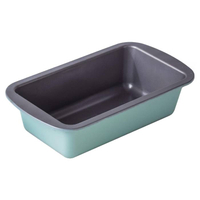 The Great British Bake Off 2lb Loaf Tin - View at Amazon
This non-stick tin can be used for this Black Forest loaf cake and so many more recipes. You can also bake bread in it if you like. It has small handles which makes it easier to take in and out of the oven and it's compatible with all oven types.
For more chocolate and cherry recipes try our adorable Black forest cupcakes. Alternatively we have a classic Black Forest cake with a boozy cream filling. If you'd prefer another recipe that uses a loaf tin, we recommend the foolproof lemon drizzle cake from Mary Berry.
Parenting advice, hot topics, best buys and family finance tips delivered straight to your inbox.