'A few sizes larger and a million times happier' - Mum's bikini photos go viral after going from a size 8 to an 18
A happy body transformation doesn't always mean shedding weight!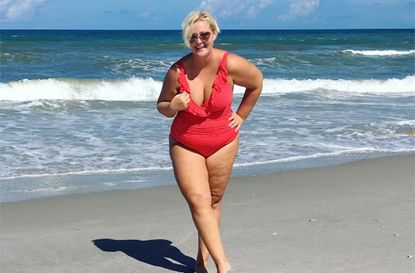 Mum Allison Kimmey is determined to show everyone that being slim doesn't necessarily make you happy, in fact she's much more confident after going up five dress sizes!
We're so used to seeing before and after photos that show the same thing over and over again. On the left, someone is usually posing with an unhappy expression with a larger body, and on the right, they've remodelled into a slimmer person, and have maybe even gained some abs.
We see these transformation photos everywhere, but it's rare to see the images swapped the other way round!
Allison took to Instagram to flip society's issues around weight around, proving that you can feel gorgeous and happy if you've put on a few pounds, not despite it.
The mum of two goes into detail about her struggles with her weight throughout her life, saying 'I began my journey with restrictive eating, body dysmorphia, yo-yo dieting, and body image issues when I was 14. By the time I was ready to graduate college I had shrunk myself to a size 2/4.'
'After my wedding in 2008 I slowly gained back all the weight and continued to berate myself for allowing that to happen to my body.
'I never felt confident to put myself out there because I was always worried about the way I looked and how others viewed me.'
She also writes about how unhappy she felt after having her first child, with all the pressure of staying slim weighing down on her.
'The picture on the left is from 2013, 9 months after the birth of my second child. I was still subscribing to the diet culture and waiting for that even better after photo until I could truly live my life and love my body.'
'I didn't have an identity because all this time I had just been worrying about fixing my body.'
Allison suddenly realised that she was wasting her time obsessing over what she thought of herself, and over what society may think of her body. She made the decision to quit caring, and start focusing on what truly matters in life.
'The last three years were quite the journey. I cried a lot. Relationships were put on hold. I questioned myself every day. But I didn't stop uncovering the beautiful soul that I now know and love so much.
It's not about your size or your weight. It's not about what you did or didn't eat. It's about how you feel about yourself, your journey on this earth and how you give back to others. I LOVE MY BODY.'
Many have been quick to comment on her photo, thanking and praising her for inspiring them to follow suit.
'Wow. This was something I needed today. I struggle daily with my weight and how I feel. Thank you for saying this' wrote one user.
'I agree.... I find before and after pictures so irritating. Like they imply they were useless, ugly and with no worth until they lost weight. It really pisses me off' wrote another.
We love this inspiring message of self-love and body positivity!
Trusted, informative, and empathetic – GoodTo is the ultimate online destination for mums. Established in 2007, our 15-year-strong archive of content includes more than 18,000 articles, 1,500 how-to videos, and 7,000 recipes.