Art teacher transforms her mastectomy scars into AMAZING tattoo
'I am reclaiming my body and raising awareness for Cancer Research UK because cancer doesn't always have to leave the last mark.'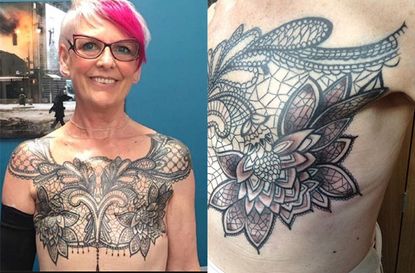 GoodTo newsletter
Sign up to the GoodTo Newsletter. You can unsubscribe at any time. For more information about how to do this, and how we hold your data, please see our privacy policy
Thank you for signing up to . You will receive a verification email shortly.
There was a problem. Please refresh the page and try again.
An art teacher who had to have both breasts removed after being diagnosed with breast cancer (opens in new tab) has turned her mastectomy scars into a beautiful tattoo.
Sue Cook, 62, was an art teacher at Winstanley College in Wigan when she was diagnosed with breast cancer in 2008. Due to the aggressiveness of the cancer she was told is was unlikely she would survive.
Sue then underwent six months of chemotherapy, and her first mastectomy to remove one breast. After further radio therapy, she had a second mastectomy a year later.
https://www.facebook.com/photo.php?fbid=1787584904807290&set=pb.100006673920199.-2207520000.1476090416.&type=3&theater
But after gruelling treatment, Sue is currently in her seventh year of remission, and now has a stunning tattoo across her chest, covering her mastectomy scars.
On Sue's Just Giving page (opens in new tab), she promotes 'SCART' which represents transforming scars into art. She writes: 'I am reclaiming my body and raising awareness for Cancer Research UK because cancer doesn't always have to leave the last mark.'
https://www.facebook.com/photo.php?fbid=1791741424391638&set=pb.100006673920199.-2207520000.1476090370.&type=3&theater
Speaking to the Metro, Sue revealed that she waited until her fifth year in remission as it was a huge personal achievement. She said: 'I waited until I had reached five years remission because I had been told there was a high risk I wouldn't survive that long, so that became a very important milestone for me.'
After overcoming such a huge challenge, the teacher admitted she was not interested in having her breasts reconstructed. She said: 'I had already lived through a big enough battle, now was the time to acknowledge the fight.
https://www.facebook.com/photo.php?fbid=1720405991525182&set=ecnf.100006673920199&type=3&theater
The tattoo took over 30 hours to complete, which began in December 2015 and finished in June this year - and we think it looks amazing!
Talking about her tattoo, she added: 'To me, it is a thing of beauty and every morning when I see it, it puts a smile on my face.'
Sue, who works as chief examiner at the University of the Arts for the Foundation in Art & Design course has also organised the Creating for A Cure online auction to raise money and awareness for Cancer Research UK.
After asking friends, colleagues and students for donations, she was overwhelmed with responses, and has over 60 pieces to auction off. The auction will run from 16th-23rd October, and all the money will be donated to Cancer Research UK.
Charlotte Whistlecroft is a former Family writer at GoodTo. She obtained a BA in Theology and Theological Studies at Durham University, going on to study a masters at City University London in 2016. Since leaving GoodTo she has worked as a Social Video Researcher at Mail Online and is now Assistant Producer at BBC Sport.