Can you beat the average time taken to solve this Boxing Day teaser?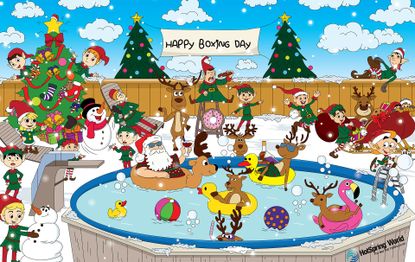 GoodTo newsletter
Sign up to the GoodTo Newsletter. You can unsubscribe at any time. For more information about how to do this, and how we hold your data, please see our privacy policy
Thank you for signing up to . You will receive a verification email shortly.
There was a problem. Please refresh the page and try again.
One of the best things about Christmas is that it comes with a good few days where we get to take a break from work and spend time doing nothing.
But by the time we have to go back to work, our brains have had so much relaxation that it can be a little difficult to wake them up and get them raring to go again.
Enter Christmas brain teasers.
While some of the festive quizzes (opens in new tab) are ideal for challenging your family to a competitive Christmas, this Boxing Day brain teaser will wake your brain up after a day of lounging around in a food coma.
Hot tub retailer HotSpring World claim this baffling brain teaser takes the average person one minute and 21 seconds to solve.
The scene shows Santa and his elves and reindeers enjoying a well-earned Boxing Day party after working hard to make sure that Christmas goes without a hitch.
But hidden among the festive revellers are SIX different classic Christmas treats that one of the cheeky elves has hidden.
The aim of the game is to find the treats as quickly as possible – and if you can beat the average time that's a bonus.
Look out for: a mince pie, a bottle of champagne, a gingerbread man, a Christmas pudding, a Christmas cookie and a turkey. And there's even a handy key at the bottom of this version to help you see what they look like.
'So many people get stressed out over this festive season,' said Lynda Smart from HotSpring World, 'we wanted to create a brainteaser that reminds people to relax over this Christmas break. We all love a puzzle and what's better than imagining Santa in a hot tub enjoying a well deserved rest?'
HotSpring World say previous participants who have tried out the brain teaser have branded it as 'very fun', with most saying that the Christmas pudding was the most difficult treat to find.
'The Christmas pud stumped me' said one, 'The Christmas Pudding literally took over a minute in the end,' said another. Another exclaimed: 'The turkey is tiny! But, still, the hardest for me was the pudding'.
So how quickly can you do it?