This Christmas optical illusion has stumped the Internet – can you solve it?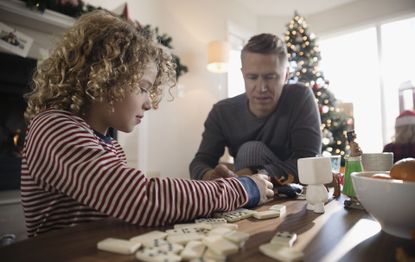 (Image credit: Getty)
Christmas is a time of gastronomic indulgence, loving family time and of course vigorous competition.
If you don't cheat at Monopoly or fall out over an intense round of Trivial Pursuit has it even been Christmas (opens in new tab)?
Well swap the classic board games for this Internet brain teaser (opens in new tab) and you might have a full-on contest on your hands.
Created by Budapest artist Gergely Dudás, who goes by the name Dudolf, this Christmas optical illusion features an array of differently-shaped snowflakes, some of which are designed with smiley faces on.
The aim of the game is to find the small snowman hidden in amongst all of the wintery precipitation – and it's surprisingly difficult.
The Hungarian artist shared the tricky illusion, which came from his Christmas-themed search-and-find book Bear's Merry Book of Hidden Things, on his Facebook page.
'Happy December!' he captioned the photo. 'There's a tiny snowman hiding among the snowflakes, can You find him?'
https://www.facebook.com/thedudolf/photos/pb.380909998677585.-2207520000.1544448733./1625063830928856/?type=3&theater
The Christmas optical illusion has divided the Internet, with some finding the snowy icon fairly quickly, while others found it slightly more difficult to locate the classic Yuletide character.
One user wrote: 'Wow, amazed that I found him!'
'Found it but also saw a cat,' commented another enthusiastic participant and another wrote: 'I was expecting him to wear a hat'.
While others flooded the post assuring Dudolf that they had found it, with comments including: 'One of the easier ones', 'Probably the quickest find for me' and 'That one jumped out at me!'
For those who did find it more challenging than others, Dudolf did attached a link to the surprisingly simple solution, so if you really reach the end of your tether you won't have to suffer long.
If this tickles your fancy and you want to make a big of a contest out of Christmas day, this baffling Christmas brain teaser is said to take over three minutes to solve.
Do you think you or any of your family would be able to beat that?
Happy hunting!
Aleesha Badkar is a lifestyle writer who specialises in health, beauty - and the royals. After completing her MA in Magazine Journalism at the City, the University of London in 2017, she interned at Women's Health, Stylist, and Harper's Bazaar, creating features and news pieces on health, beauty, and fitness, wellbeing, and food. She loves to practice what she preaches in her everyday life with copious amounts of herbal tea, Pilates, and hyaluronic acid.