X Factor star Brenda Edwards confirms she's cancer free after mastectomy
Brilliant news for the singer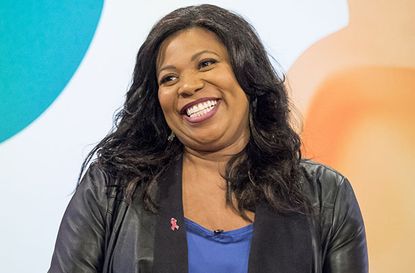 Singer Brenda Edwards opened up about her breast cancer treatment on today's Loose Women, confirming she is now in the clear.
The X Factor star, who took part in the singing competition in 2005, was diagnosed in January (opens in new tab) this year with stationary breast cancer.
But after undergoing treatment and having a mastectomy, the reality singer told the Loose Women panel she is now in the clear. She said: 'I had an operation six weeks ago now and so they had to send away everything. I had a mastectomy.'
While on the show Brenda encouraged women to regularly check their breasts for signs of cancer (opens in new tab). She even showed fellow panellist Stephanie Davies how to check herself, after she admitted never examining her breasts.
The singer found the lump on her breast - about the size of a frozen pea - while performing in Hairspray. She said: 'I was doing the Hairspray tour, and I was in my dressing room getting ready for my second show.'
After Brenda's dresser for the show told her about a friend who had recently been diagnosed, Brenda decided to check herself. Although she did find a lump, it was only a few weeks later when she noticed it was still there that the star went to the doctor.
Although reluctant to tell her fellow cast members in Hairspray, she eventually broke the news, saying: 'I felt that me as a person needed that kind of support.' 'I can't even begin to tell you the immense appreciation I had for the cast and the producers and everybody and even people I don't know. After coming on the show the last time I had a couple of people tweeting to say thank you so much for telling me your story.
'I've been living with a lump and watching you has made me now want to phone the doctor'.
Charlotte Whistlecroft is a former Family writer at GoodTo. She obtained a BA in Theology and Theological Studies at Durham University, going on to study a masters at City University London in 2016. Since leaving GoodTo she has worked as a Social Video Researcher at Mail Online and is now Assistant Producer at BBC Sport.