The X Factor's Brenda Edwards opens up about breast cancer diagnosis on Loose Women
She was a semi-finalist in 2005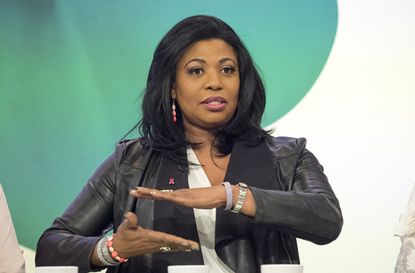 The X Factor semi-finalist Brenda Edwards has opened up about her breast cancer (opens in new tab) diagnosis on ITV's Loose Women.
The musical star, who took part in the reality singing competition in 2005, told host Ruth Langsford about the moment she first found the lump that eventually led to her being diagnosed with stage 3 cancer.
'We were in Birmingham with Hairspray [the musical, in which Brenda is currently playing Motormouth Maybelle], and my wardrobe assistant, my dresser, Stella came in and she was looking a bit sad and obviously we spend so much time together, so I said to her "Stella what's wrong?", and she was like "oh my friend has just found out, she's just been diagnosed with stage-3 breast cancer".
'She was dressing me and I was like "oh, let's have a feel", and I ran my hand and felt something that didn't feel right, something felt hard that I've never felt before. I said "oh, I feel like I've got a bit of a bump, but hey, let's go on and do the show". I went on, did the show, finished the show in Birmingham, and we had a little bit of a break in the New Year, and I felt that it was still there, and so I phoned the doctor up on the 4th of January and they put me in for an emergency appointment. Then by the 7th of January I had to go to the hospital, had a biopsy and an ultrasound.'
The mum-of-two also admitted that she didn't tell her family about the check-ups at this stage, explaining, 'I just wanted to know what was going on, in my head first, because I didn't want to worry the family unnecessarily, obviously I've got my two children there, and when you say the word cancer to your children, they don't really know how to deal with it. They're older, they're 25 and 22, but they're still children, and they'll always be children.'
However, despite her concerns, Brenda is now undergoing treatment, and she and her family have an extremely positive attitude towards her illness.
'My first treatment was actually World Cancer Day, on the 4th of February, I'm never gonna forget it,' she said. 'I've had four chemotherapy treatments, every 21 days, and of course I'm still doing the show. It does tire you, when you're having the chemotherapy, and I also have a cold cap as well.
'But there's no option to be down. One of my nurses when I was having treatment said to me "don't let anyone say the words 'aww' or 'oh' to you, don't let anyone feel sorry", and I've really tried to keep that positive attitude and be happy with it.
'It's not easy at all, but the one thing that I do know is that if it wasn't for my dresser then I wouldn't have felt that in the first place. I used to touch myself and feel for stuff but if she never said it, I wouldn't have done it, so it's very important that people know what to feel for, and even if you don't know, find a friend or go to your doctor, and if you feel anything whatsoever, the only thing I can say is get into that doctor's surgery.
'I believe that I can get through it, I'd had three chemo treatments and before my fourth one they said my tumour's shrunk to half the size. It's positive, onwards and upwards.'
More: How to check your breasts (opens in new tab)
Brenda first revealed she was fighting breast cancer in an inspiring message shared with fans on Twitter back in January 2016. In the post, which saw the star share a blank 'image' with a poignant message in the middle, she wrote, 'I have joined the army of strong and determined women who are fighting breast cancer. I am keeping positive and remain thankful for the love and support of my family and friends.'
Fans were quick to share messages of support, with one writing, 'Well done girl for being brave and telling the world. We all love you dearly and will be beside you every step. Xx'
Actor Tony Maudsley, who's Brenda's co-star in the musical Hairspray, was also among the singer's supporters, tweeting: 'If cancer thinks it stands a chance against our Motormouth, it should think again! Hairspray army at the ready!'
Brenda was mentored by Sharon Osbourne and came fourth on ITV's hit show in 2005, the same year Corrie star Shayne Ward was crowned the second ever X Factor winner.
One of her most memorable performances was her take on Dionne Warwick's I'll Never Love This Way Again, which wowed the entire judging panel.
After her success on The X Factor, the powerful singer turned to the West End, performing in shows like We Will Rock You, Chicago and Carmen Jones, and also appeared in Ben Elton's BBC1 sitcom The Wright Way in 2010. She also released her first studio album, Bring It All Back, in 2013.
Trusted, informative, and empathetic – GoodTo is the ultimate online destination for mums. Established in 2007, our 15-year-strong archive of content includes more than 18,000 articles, 1,500 how-to videos, and 7,000 recipes.