Carol Vorderman reveals the menopause left her 'really deeply depressed'
'I couldn't see the point of going on sometimes'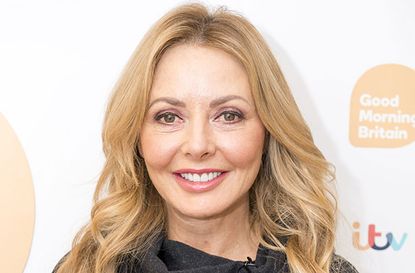 Carol Vorderman has opened up about her six-month battle with depression (opens in new tab), which was brought on by the menopause.
The I'm A Celebrity... Get Me Out Of Here! star has been using her current limelight to break taboos around mental health, revealing that the menopause left her feeling 'really deeply depressed'.
Carol opened up to The Sun to discuss depression brought on by the menopause, revealing that she was 'properly depressed' and 'couldn't see the point of going on sometimes'.
The star admitted that her bout of depression lasted a full six months, sending her mental health into a downwards spiral that had her considering suicide in the second half of 2015.
Thankfully, the thought of leaving her children - Cameron, 19, and Katie, 24 - stopped Carol from letting dark thoughts become anything more, but she explained how she can imagine getting to that point.
'Had I been in different circumstances, I could understand why people take their lives – because you can't think of a way out. I couldn't see the point of going on sometimes.
'It was a horrible place to be. I've been struck by grief, and experienced bad times, but this was different.'
The 55 year old explained that the hardest thing for her was not knowing or understanding why she was having such depressive thoughts, considering she had experienced a divorce and the loss of her Countdown colleague Richard Whiteley, yet coped through both.
'We've all had crap times. I've had a divorce, various things go wrong, my mum's had cancer. When Richard died I was struck by grief, but they were different because there was a reason for feeling low.
'This time there was no reason. Nothing terrible had happened. And I was not just low, I was properly depressed. Really deeply depressed.'
Carol with this year's I'm A Celeb winner, Scarlett Moffatt
Carol took measures into trying to understand exactly where these feelings were coming from, and realised that her menstrual cycle seemed to link with particular low points in the month.
After speaking to a hormone specialist, Carol has been given hormone gels that she applies everyday and has been feeling better since.
'I've never had a moment, not a second since. Isn't it crazy? It's just a simple chemical imbalance, and that's all it was. That's a natural thing just because of ageing. Think how many people suffer just because of that.'
Now the mother of two wants to break taboos on menopausal depression, which she remembers being called 'the change' as a child and something that was never spoken about.
Trusted, informative, and empathetic – GoodTo is the ultimate online destination for mums. Established in 2007, our 15-year-strong archive of content includes more than 18,000 articles, 1,500 how-to videos, and 7,000 recipes.