'Blink and you'd miss it' Woman shares picture of lesser-known breast cancer symptom
'I only spotted it thanks to another post shared by an amazing friend'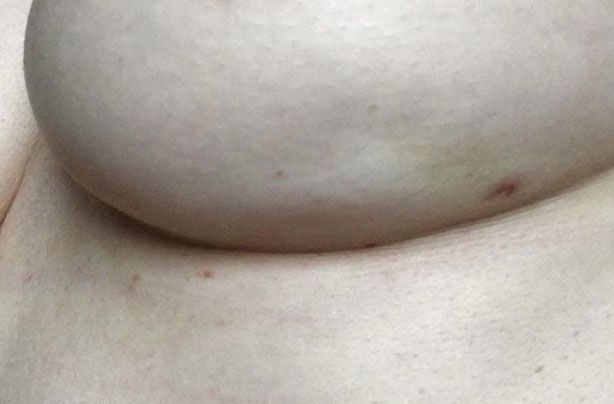 A woman's Facebook post has gone viral after highlighting a lesser-known symptom of breast cancer (opens in new tab).
Mother-of-two Claire Warner, 41, shared the image of her left breast to her Facebook account, highlighting the dimple in her skin that had alerted her to her illness.
'Ok, here goes - the Facebook status and photo I never dreamt I'd be posting - PLEASE READ and more importantly LOOK!'
This is a picture of my left boob. The small purplish bruise is where I had a biopsy taken. The minuscule dimple up and to the left of it is a rare and little-known symptom of BREAST CANCER,' she wrote.
Claire added that she'd only noticed the change in her skin after seeing a story about another woman, Lisa Royle (opens in new tab), who shared a similar symptom of her own cancer online.
'Blink and you'd miss it. I only spotted it thanks to another post shared by an amazing friend,' she said.
'I hope I'm one of the lucky ones. I've caught it exceptionally early (only thanks to someone else sharing a similar post). And while it's a nasty bugger, it is one small contained lump and after surgery, chemo and radio therapy, I've every hope of being cured.'
'I can't feel the lump, even now that I know it's there. I'm not ill. My only symptom is this dimple.'
'PLEASE PLEASE PLEASE check yourself (males as well as females) and get your loved ones to check themselves also. If I can help one other person, the way I was helped, then it's been worth showing my soon-to-be-reduced left tit to the world xxx'
https://www.facebook.com/photo.php?fbid=10153723107878133&set=a.10150889557378133.403040.594053132&type=3&theater
Since it was uploaded on 5th July, Claire's post has been shared more than 25,000 times, prompting her to set up a Twitter account, @OfNoSpecialType, where she will update followers on her progress.
'Never though my own left boob would go viral,' she tweeted, sharing a link to the original post. 'Please read and share.'
More: How to check your breasts (opens in new tab)
In the bio for the Twitter account, Claire explains that she has invasive ductal carcinoma, the most common kind of breast cancer, accounting for around 75% of all cases. Common symptoms include a lump in the breast or under the arm, changes to or discharge from the nipple, pain the area or a change in the size and shape of the breast, but can also attribute to the dimpling that Claire's picture shows.
She has since been inundated with supportive comments, wishing her well throughout her treatment, which will include surgery, chemotherapy and radiotherapy.
'I'm sorry you have to go through this. You're amazingly brave and gutsy to share your picture! Massive well done! Be strong and fight well. Lots of love,' one wellwisher wrote, while another added, 'Massive respect to you for sharing. Sending you love and strength.'
Trusted, informative, and empathetic – GoodTo is the ultimate online destination for mums. Established in 2007, our 15-year-strong archive of content includes more than 18,000 articles, 1,500 how-to videos, and 7,000 recipes.