We earn a commission for products purchased through some links in this article.
Image: Facebook/Lisa Royle
We're all guilty of wasting a bit of time on Facebook – a funny meme here, a quiz or game there – but it's not often you see a post on Facebook that could actually save your life.
Lisa Royle's latest picture, however, is one that every woman should see, as it could help them identify symptoms of breast cancer that might otherwise get missed or neglected.
Sharing the post on her personal account, the brave 42 year old mum wrote, 'Ok so I never thought I'd post a boob picture on Facebook but I thought I would before it gets chopped off next week.'
'So here it is….. This all that I found on my boob. Very subtle dimples underneath that could easily be missed when we're all rushing round getting ready in a morning. Please take time to look at your boobs. It could save you're life.'
Underneath her heartfelt message, Lisa shared this picture of her own symptoms:
Image: Facebook/Lisa Royle
Lisa has since had her mastectomy operation, and her husband posted on his own page recently that she is 'is out of surgery and doing really well.'
Her sister has also set up a fundraising page, saying 'Lisa has done a bloody great job of raising awareness about looking at your boobs the least we can do is help to get her a nice wig/bra and maybe some spending money for her Florida 2016 holiday which I know she is focussing on. If everyone of the 15,000 people who saw that photo gave 1p each that would be fabulous!!!'
However, we think the charity page must have written this a little while ago, as Lisa's post has now been shared more than 50,000 times – a fantastic achieveement, as her simple but powerful image really does highlight just how easy it is to miss subtle symptoms of cancer, and how important it is to check for every woman to check their breasts on a regular basis.
The changes you should be looking out for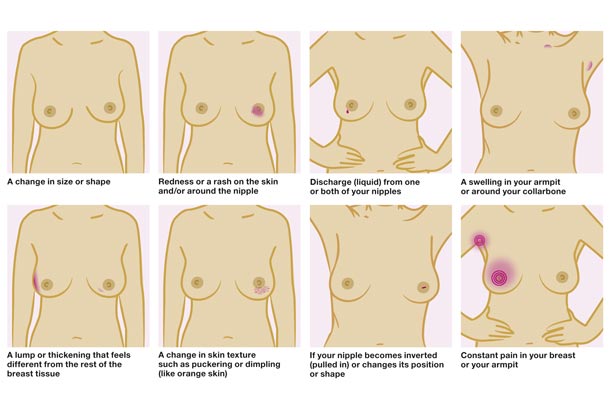 More: 5 easy ways to check your breasts
If you are concerned and need further information about breast cancer, visit www.nhs.uk and contact your GP.