'Just unfollow me' Davina McCall hits back at critics of her fitness posts in honest video
The TV star often posts about fitness on social media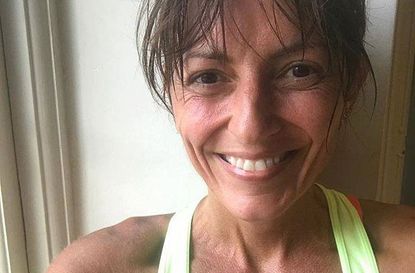 GoodTo newsletter
Sign up to the GoodTo Newsletter. You can unsubscribe at any time. For more information about how to do this, and how we hold your data, please see our privacy policy
Thank you for signing up to . You will receive a verification email shortly.
There was a problem. Please refresh the page and try again.
TV star Davina McCall has hit back at critics who say she's 'obsessed' with fitness, with a video on social media.
She's usually described as 'inspiring' but the mum-of-three found herself forced to defend her 'sweaty selfies' after being accused by fans of being self-obsessed and sending the wrong message to girls.
In a video - which she captioned by writing 'Just explaining my sweaty selfies . ❤️❤️❤️❤️❤️' - the 49-year-old told her followers to stop following her if they find her 'annoying'.
https://www.facebook.com/DavinaMcCall/videos/10154867519453456/
'I know that some people find that annoying but I do it a lot on my Facebook page and my Instagram. If you do find it annoying, just unfollow me', she said in the video,' she says in the clip.
'I do it because I know I get inspired by other people that do it. If I look at the 6am club and they've all been out for a run then it inspires me to get off my butt and go out and do something myself. I'm just trying to inspire people and get people motivated.'
The star continued to say that she also shares her fitness journey on social media so that everyone can see that anyone can do it, no matter their age.
'I'm nearly 50. When I was in my twenties and thirties I thought nearly fifty was like, it, that was the end of life. And it's not! It's not!, she said.
'I want to show people that it doesn't matter how old you are you can still get fit and enjoy being fit and even when you think ugh I really can't be bothered to get out of bed, you'll feel great afterwards. And if that annoys you, unfollow! But if you like it, stay with me!'
https://www.facebook.com/DavinaMcCall/photos/a.285261288455.143854.15619558455/10154864891318456/?type=3&theater
Davina's honest video comes after she received negative comments on her previous posts, from fans who said they found her pictures 'disturbing'.
One said: 'I find this picture of Davina really disturbing. With SO many teenage girls out there with eating disorders this is not a look to aspire to. She may have fantastic abs but the rest of her body is far too thin.'
A second commented: 'Sorry Davina you have just done a programme on obsessive behaviour , body image, mental health and social media and pressure on young people and you are still doing this. Your body is unobtainable for most women ... why oh why are you obsessed with posting thought you would have learnt something from your own programmes.'
And a third wrote: 'Like Davina but getting fed up of these pics... to be honest it's coming across as LOOK AT ME. Self obsession comes to.mind and then constantly posting pics of what you look like... not a great message to be sending young girls.'