Denise Van Outen reveals 'frightening' breast cancer scare
She found a lump at the same time as a close friend was diagnosed with breast cancer...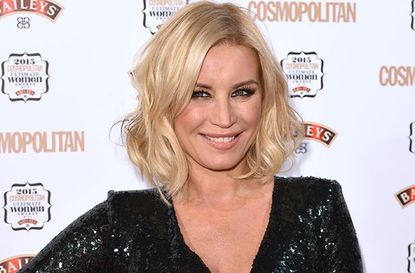 We all know how important it is to check our breasts (opens in new tab) regularly, and dealing with the reality of finding a lump is something we all hope to never have to experience.
Denise Van Outen has now opened up about that very moment, when she discovered a lump in her breast that led to her undergoing lumpectomy surgery.
Not only that, but the 41-year-old star has revealed how her own 'terrifying' discovery coincided with a close friend's breast cancer diagnosis, after the pair both realised they'd found lumps at around the same time.
'We were on a spa break together just over a year ago when we both mentioned we'd found lumps,' she told The Mirror.
Denise pictured with her boyfriend Eddie Boxshall
'I am very breast aware because I lost my grandmother to breast cancer so I said, "Get to a doctor, quickly". We made a pact to both get checked. Within two days my friend was told she had cancer.' Denise's results showed her own lump was benign, but as she has a family history of breast cancer, the mum of one decided to undergo a lumpectomy to remove the offending mass.
A lumpectomy is a process which gets rid of the growth without removing any additional, healthy breast tissue.
Denise, who's a mum of one to her six-year-old daughter Betsy, has since revealed details of the experience, and how her daughter was one of the main reasons for her cautiousness when dealing with the scare.
'Even being in the doctor's surgery getting checked is pretty frightening,' she told The Mirror.
Denise with her six-year-old daughter, Betsy
'I had a biopsy and doctors said it was benign. And I said, "Just take it out". I want to be around to see Betsy grow up. I want to do all the things I can as a parent - even become a grandparent.'
Opening up about her friend's experience with cancer, she told Closer magazine: 'She's very fortunate that her cancer treatment has been successful. We've known each other since we were kids, and have always been best friends – we're pretty much sisters!
'I've watched her go through the process of having chemotherapy, losing her hair, losing her confidence. I've witnessed first-hand what it's like for women when they go through cancer treatment and how they feel.'