Experts warn water-resistant sun creams don't work as well as we think
Do you usually buy them?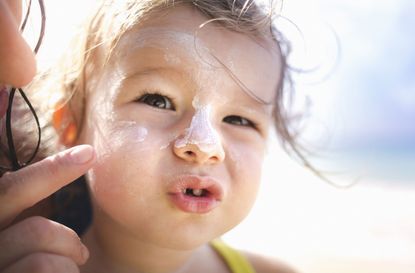 GoodTo newsletter
Sign up to the GoodTo Newsletter. You can unsubscribe at any time. For more information about how to do this, and how we hold your data, please see our privacy policy
Thank you for signing up to . You will receive a verification email shortly.
There was a problem. Please refresh the page and try again.
You may be tempted to purchase a water-resistant sunscreen for your summer holiday this year, but perhaps you should think again.
Consumer group Which? has warned water-resistant products work much less after you've been in the sea.
Which? tested two sunscreens and found the sun protector factor (SPF) dropped by up to 59 per cent after 40 minutes spent in salt water.
Cancer Research UK has supported the study and warned people that no sunscreen is ever going to be 100 per cent effective.
Which? tested one well-known international brand and one popular own-branded product.
Tested: Best and worst sun creams (opens in new tab)
The SPF of the well-known brand felt by 59 per cent, whereas the other product fell by 34 per cent.
Tests were carried out using salt water, chlorinated water and fast moving water, whereas manufacturers carry out their tests using just tap water.
Current UK tests allow manufacturers to claim a sunscreen is water resistant if the SPF drops by as much as 50 per cent after two 20-minute periods of immersion.
'In reality, sun protection is likely to drop even further - factors such as reflection from water, heat, light, sweat, towelling and rubbing all reduce the protection of sunscreens,' Which? said.
They added that UK water-resistance tests were 'unrealistic to the point of being meaningless'.
The study has been criticised by the Cosmetic, Toiletry and Perfumery Association (CTPA) , who said Which?'s findings were flawed and consumers should have confidence in water-resistant sunscreens.
Director-general Dr Chris Flower, a chartered biologist, said current testing methods worked absolutely fine.
'In fact an SPF 30 product will stop approximately 96% of UV rays reaching the skin and after robust water resistance testing the product will still filter out at least 93% of the sun's UV rays,' he said.
'This is clearly not the dramatic reduction in efficacy that Which? implies,' he added.
Which? have now urged for there to be stricter regulations like those in America and Australia, where the SPF on the sunscreen label must be the SPF it provides after immersion.
Words by Kirsty McCormack