Woman taunted by Facebook adverts after the birth of her stillborn baby calls for change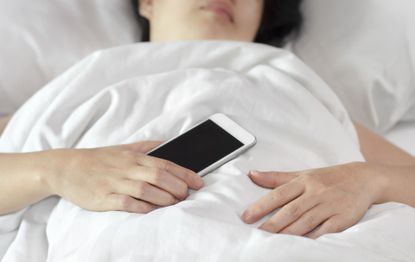 (Image credit: Getty Images/iStockphoto)
GoodTo newsletter
Sign up to the GoodTo Newsletter. You can unsubscribe at any time. For more information about how to do this, and how we hold your data, please see our privacy policy
Thank you for signing up to . You will receive a verification email shortly.
There was a problem. Please refresh the page and try again.
A woman has been left devastated after being taunted by Facebook adverts following the stillborn birth of her baby daughter.
Anna England Kerr spoke to Mail Online about how, since the stillborn (opens in new tab) birth of her daughter six months ago, she has been targeted by Facebook adverts that are aimed at new parents.
The 30-year-old spoke about the distressing experience of being constantly bombarded by the troublesome content and said that she has even tried changing her settings and contacting the social media directly to try and avoid the advertising, but with no avail.
'I contacted [Facebook] in June. It's December now,' said Anna. 'I tried to give a grace period, but I'm just angry now.'
Only days after her daughter Clara was stillborn at 38 weeks, an advert popped up on Anna's Facebook page for a baby toy.
'This feeling just rips through you,' said Anna. 'It's like someone has shoved a knife inside you and torn it through you.
'I thought "I'm never going to buy that for Clara, that's never going to be me with Clara now, I can't do these things for her"... it sends you into freefall.'
In the months since she lost her daughter, Anna has been presented with advertising for post-maternity clothes from H&M and a Cow & Gate advert about weaning.
'The most recent one was an Interflora advert celebrating the role of dads at birth,' said Anna. 'It starts with the tagline: "Things didn't go as we'd expected." Obviously their birth went well because it's a flower company, but I don't stick around to [watch] the rest of the video. It keeps following me around repeatedly.'
Gary Barlow reveals why it's important for him to talk about the tragic loss of his daughter (opens in new tab)
The distressed Londoner says that she continues to use Facebook to keep in touch with friends and family who live out of the country and to take part in support groups for mums of stillborn babies.
She has called for Facebook and other companies to step in and stop this mis-targeted advertising from happening.
'They're making money off the algorithm that is creating all of the trauma,' said Anna.
'Other people have had other problematic experiences, such as arranged the funeral of a parent and then been targeted for funerals,' she said.
'It's nothing that a human looking at the data would let fly...companies need to intervene.'