Gary Barlow reveals why it's important for him to talk about the tragic loss of his daughter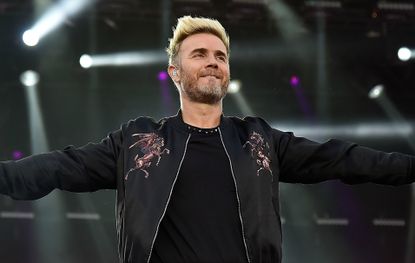 Gary Barlow hopes to help others by talking about the death of newborn daughter, Poppy.
The singer recently re-visited the devastating impact that the stillbirth of his daughter Poppy had on his family six years ago on Radio 4's Desert island Discs.
Talking with Lauren Laverne on the Radio 4 podcast, the singer revealed: 'For anyone who has been through anything like this, I think it's something you accept you're going to be dealing with the rest of your life.
'In a strange way you don't want it to end because it's one of the few things you have to remind you of the person that's not there. In some ways the pain and the grief brings you closer to them.'
Gary candidly wrote about Poppy in his autobiography, A Better Me, and for the first time has shared the reason behind why he decided to let the world in on such a painful period of his life.
The Take That star also revealed how he and his wife of 18 years, Dawn, 'talked endlessly' about whether he should write about Poppy's death in the autobiography.
He stated:'It felt important to me as a 47-year-old man to talk about something bad that's happened and how it made me feel.'
'You can pick up several magazines and know how women deal with things and learn how other people have experienced them and for some reason men don't talk about those things.'
In his book, Barlow writes at length about the moment that Poppy was born and his family's experience with her loss:
'When she was born it was like a light came into the room.'
'It was one of the best hours of my life I've ever experienced in the midst of the hardest time of my life. It was very powerful, that hour was.'
Gary's beautifully brave decision to talk about Poppy's loss will hopefully serve as a comfort to others who have gone through similar experiences.
Parenting advice, hot topics, best buys and family finance tips delivered straight to your inbox.
Freelance Lifestyle Writer
Niamh McCollum is a freelance lifestyle writer who has written for Future titles GoodTo and Marie Claire UK, plus the Irish Independent. The Dublin-based journalist specialises in stories
affecting families - from health updates, to the freshest parenting debates and celebrity announcements.