Twenty-five-year-old woman urges others to know the symptoms of cervical cancer in viral post
Heather Keating has now beaten her cervical cancer but know's she's lucky.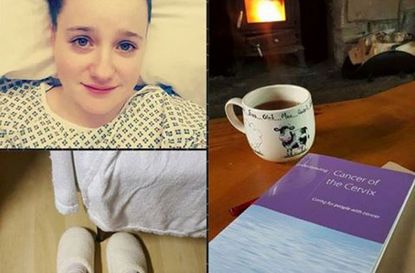 Heather Keating was just 24 years old when she first spotted the signs of cervical cancer and was diagnosed after her first smear a year later at 25. Now, she's urging other young women like her to be aware of the signs and symptoms to look out for.
Heather, 25, from Ireland, has thankfully beaten her cancer and shared her story on Facebook for Cervical Cancer Awareness Week. She points out in her post that many women just wait until they're 25 to go for their smear test, as this is when you're eligible for them free on the NHS. But if you're aware of the symptoms and able to spot when something's wrong, it's important to raise any concerns as soon as possible.
At the age of 24, after experiencing bleeding between periods and after sex, Heather went to her doctor. They told her to come back for a smear test when she was 25. 'Never in my wildest dreams did I think I had cancer,' Heather writes on the heartfelt Facebook post.
After turning 25, Heather returned for her first smear, and when abnomal cells were detected and further tests taken, she was told she had cervical cancer. However, it's thanks to her proactiveness in spotting the signs and being aware of what to look out for that she caught it early enough to do something about it.
[Facebook]https://www.facebook.com/photo.php?fbid=10208849457018395&set=a.1735909442224.2099269.1373231160&type=3&theater[/Facebook]
As a warning to others she posted the symptoms to look out for which include:
Abnormal bleeding
Heavy or longer periods
Bleeding between periods
Bleeding after sex
Bleeding after menopause
Foul smelling discharge
Pain or discomfort in the pelvis or during sex
Heather's story has attracted national coverage and recently she wrote about her experience for the Independent in an emotional account of her ordeal. Being fairly fit, Heather explains, meant she never suspected health problems – she ran every day and loved yoga.
After her smear test Heather still wasn't too worried about discovering she had pre-cancerous cells on her cervix. Writing for the Independent she said, 'I wasn't too worried as I knew it's not uncommon for a woman to visit a colposcopy clinic and have cells removed.'
Her gynochologst took more tests at this point and a few weeks later asked Heather to return for her results, which is when she knew everything wasn't ok. Heather, who is engaged to her boyfriend of seven years, says, 'I was brought into a nice, quiet, little room with a couch and a box of tissues on the table. I told myself: "this is it. This is the room where people get bad news".'
Thanks to Heather's fast action when she knew something was wrong, she was cancer free within four weeks of her diagnosis. She had her tumour surgically removed and described that moment in a touching way. She said: 'Relief isn't the word to describe how I felt. I suddenly had my life back, my future.'
As she points out a smear test takes 10 minutes and is available for all women between the ages of 25 – 60 from a GP. If you're under 25 you can still have one if you're worried, but there is a charge for it. These tests are so important because they can help pick up the early signs of cancer, meaning a higher chance of beating it.
The brave 25 year old finished her piece for the Independent by saying, 'I hope my story will help others see the importance of going for smears and listening to your body and knowing when something isn't right. And, for the under-25s, it's always worth knowing the symptoms of something that's already gone wrong.'
If you're worried or want more information visit your GP or nhs.uk.
Rosie is an experienced food and drinks journalist who has spent over a decade writing about restaurants, cookery, and foodie products. Previously Content Editor at Goodto.com and Digital Food Editor on Woman&Home, Rosie is well used to covering everything from food news through to taste tests. Now, as well as heading up the team at SquareMeal - the UK's leading guide to restaurants and bars - she also runs a wedding floristry business in Scotland called Lavender and Rose.