Hollyoaks star Sarah George hits back at body shamers who claim she looks 'pregnant'
'When did it become okay to comment constantly on people's appearances so negatively?'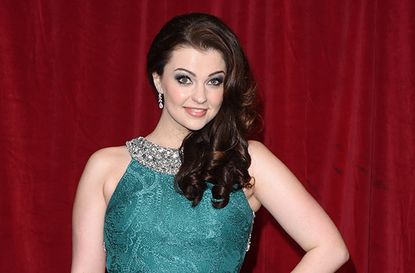 Actress Sarah George, who plays Celine McQueen in Hollyoaks, was forced to deny she is pregnant after being body shamed on social media.
The Channel 4 star took to Twitter to hit back at the body shamers who accused her of being pregnant.
The comments were made by viewers after scenes, shot after Christmas, were aired. The 23 year old said that when the scenes that featured Sarah's character Celine in a tight dressed were shot she had just come back from holiday and put on a bit of weight.
Sarah hit back at body shamers on Twitter
'No wonder so many people have eating disorders and body shaming. [I] put a bit of weight on over Xmas while on holiday (we're all guilty of it), come back to work, wear a typical McQueen dress & get tweets asking if you're pregnant or just fat when it airs in April. To set the record straight, no I'm not', Sarah said on Twitter, hitting back at those who'd suggested she might be expecting.
The young star went on to criticise how people comment on someone's appearance so negatively, saying that we should 'celebrate' each other and not bring each other down.
'Certain camera angles can make you look bit bigger, or maybe you're just having bit of a bad time in your personal life so can't go to the gym as much. When did it become okay to comment constantly on people's appearances so negatively?
'I was brought up on if you don't have anything nice to say then don't say anything at all. In this day and age, you'd think people would have learned how important it is to celebrate each other rather than think of ways to bring them down. I'm okay though ta. Just an idea.'
Sarah also added that she is happy with her body image and that she leads a healthy lifestyle.
'I'm healthy and happy and I exercise regularly. I'm sorry I didn't fit into my dress as well as people seem to want me to.'
Many of Sarah's fans and co-stars demonstrated their support for her response, including James Sutton and Rachel Adedeji.
James, who plays, said: 'seconded. Gorgeous and talented x', while Rachel commented: 'Preach it sis! Some people are just haters. You're amazing, talented, and very sexy. So much respect for you X x'.
Eating disorder charity Beat has also weighed in on the discussion, congratulating her for her 'robust' response to the comments and urging for a responsible attitude when discussing body image issues.
'Sarah is to be congratulated on her robust response to these thoughtless and hurtful comments', a spokesperson for the charity told Digital Spy.
'We would ask everyone to take a responsible attitude towards discussing weight and shape. We know the difference it would make to vulnerable young people if no-one felt bullied or under extra pressure just because of how they look, and that includes celebrities.'
Trusted, informative, and empathetic – GoodTo is the ultimate online destination for mums. Established in 2007, our 15-year-strong archive of content includes more than 18,000 articles, 1,500 how-to videos, and 7,000 recipes.