Woman shares genius hack to make dirty trainers white again
So simple!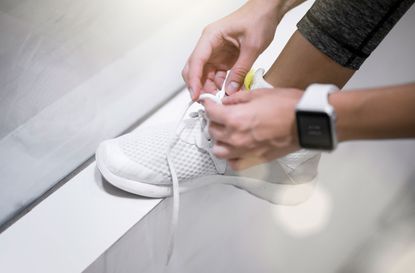 A woman has shared a simple yet effective cleaning hack, revealing how to clean white trainers and make them look brand new again.
If you found yourself giving up on a pair of white trainers because they've completely changed colour, then you might be relieved to know there's something you can do to give them a new lease of life.
A mum who was about to throw away her worn-out white Converse trainers explained how she managed to get them back to their original colour and you won't believe what she used.
After seeing people suggesting this unexpected products in Facebook groups where people share cleaning tips, she decided to give Polident tablets (yes, denture cleaner) a try.
Explaining what she did to Kidspot, Jaymie revealed she dissolved six tablets in her bathroom sink filled with hot water, and placed her shoes in the tub after they had dissolved.
She said: 'I gave them a light scrub but they were not completely clean yet and I then decided to just leave them overnight.
'I went to check on them in the morning and I was in total shock. They were just like new again. I then gave them a good rinse with cold water and left outside to dry. I was more than impressed with the result.'
Another hack worth trying is come courtesy of Twitter user Sarah Tracey, who explained how she managed to transform her white Converse and make them look shiny and new again.
'I am a miracle worker,' she wrote alongside the snaps of the shoes looking grubby at the beginning of the process, and clean and polished at the end.
READ MORE: Mum reveals GENIUS (and super cheap) hack that keeps her sofa sparkling clean
When asked how she'd achieved the results, Sarah detailed: 'ok rinse shoes, mix 1:1.5 of baking soda & detergent, scrub w toothbrush, let it sit for a while, rinse, put in washer, baby powder/dry'.
The original tweet received a fair amount of attention, with over 9k retweets, but it was when Sarah revealed how she'd made the incredible change happen that the post really started going viral, with over 98k retweets and thousands of comments.
Many users were quick to praise Sarah's ingenuity, with one admitting: 'My shoes neeeeeed this!'
'So after they're washed, you sprinkle baby powder all over them? dry in sun, shade, with a fan...? This is awesome!' another exclaimed.
'God obviously saw me googling how to clean white shoes today and sent this tweet my way,' a third declared.
One asked if they could use the concept on any colour of trainers, although Sarah stressed that she wasn't sure, responding: 'idk it's the first time I did it lol'. Others, meanwhile, implored the college student to make a YouTube video so they could follow the system themselves.
Whilst there are a few steps involved, her idea uses products that you've probably already got in the house, so the hour or two of effort could well be worth it...
Do you have a pair of trainers that could do with this treatment? Are you planning on trying any of these hacks for yourself? Head over to our Facebook page and let us know your thoughts!
Mariana is a lifestyle writer who has written for Goodto.com and My Imperfect Life. She joined the Goodto.com team as an intern after completing her journalism MA at City University. After six months spent writing about food, celebrity news, and family trends, Mariana left to write for Healthy Food magazine - but returned in 2017, to join the Future team once again. In her spare time, you'll find Mariana in the kitchen cooking for her friends.