How to get foundation out of clothes - 9 quick hacks
Try these simple steps to get rid of pesky foundation marks on your clothes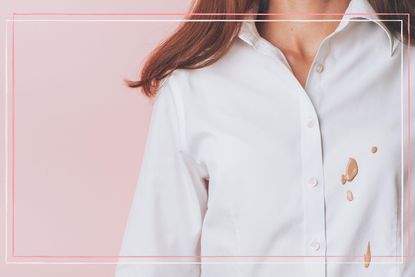 (Image credit: Alamy)
If you always put your makeup on before getting changed then you've probably wondered how to get foundation out of clothes. We're here to help...
We've all been there. You've just done a full face of make up and had to work out how to get your favourite top on without it touching your face. Or you got over excited after finding your perfect foundation shade (opens in new tab) and spilt the new bottle down your front. It can feel like a disaster in the moment - especially if you're about to go out. But, much like knowing how to get stains out of school uniform (opens in new tab), once you know how to get foundation out of clothes you won't need to stress anymore.
While you should leave delicate fabrics to the professionals rather than tackling foundation stains at home, there are plenty of ways you can remove these pesky makeup marks using household products. Fans of Mrs Hinch cleaning tips (opens in new tab), keep reading, because we've rounded up nine of the best hacks to get foundation out of clothes...
How to get foundation out of clothes
1. Shaving cream
You might have seen this hack doing the rounds on the internet, but it really does work! In fact, Kim Kardashian swears by it - as does cleaning influencer and mum of two Chantel Mila.
In a viral TikTok captioned "The stain removal hack makeup artists swear by 🙌", Chantel shared how she uses shaving foam to remove foundation from clothing "instantly".
After spraying the foam directly on the stain, she advises to leave it for ten minutes before removing with a cloth and washing as usual.
2. Dish soap
If your foundation is oil based, then you should be able to easily remove any stains on your clothing with dish soap.
After gently blotting away any excess foundation, rub dish soap into the stain using your fingers. Leave for 20 minutes to let the dish soap break down the oils, then wash in your machine on the warmest setting that the clothing label allows.
If the garment isn't machine washable, hand wash instead with warm water, before leaving to air dry.
3. Baking soda
Residential cleaning company The Maids (opens in new tab) recommends using baking soda to tackle foundation stains on cotton and synthetic materials - though they warn against using this hack on silk and other delicate fabrics.
They recommend sprinkling baking soda on the stain and working it in with a soft cloth, before leaving it for five minutes to absorb the foundation. Then, shake of the excess and flip the garment over to repeat the process on the other side.
Rinse the clothing with cold water and wash as usual, and the stain should have vanished!
4. Makeup remover
It doesn't just work on your face, you can use make up remover to rid your clothes of stains too. You can try makeup wipes or a micellar water - as long as it's not got oil in it.
While this hack might not be as effective on white or lighter coloured clothing, if you're wearing something dark and need a quick fix before you go out then we'd recommend trying this one.
6. Hairspray
This one's more of a preventative measure if you're prone to getting makeup all over yourself when you're getting ready, as hairspray can stop makeup from sticking to your clothing.
Mother of two Alicia Bailey went viral on TikTok when she posted a video (opens in new tab) explaining that she sprays hairspray around the neckline over her clothes before waiting 20 minutes to get dressed.
She captioned the video, "Quick hack to stop makeup going on your clothes."
However, commenters were quick to urge caution when trying this hack. One wrote, "Hairspray is flammable just in case some smoke," while another said, "Wow but 🔥 fire hazard central❗️❗️❗️".
7. Hairdryer
If it's powder foundation that you've spilt all over your new white top, then you might be able to get the stain out using just your hair dryer.
Use the cool setting and direct the nozzle at the foundation stain, and most of the powder should just blow off your clothing.
If there's still some marking left after you've tried this, run warm water through the back of the stain, cover it in liquid laundry detergent and wash as usual.
After you've washed the garment and left it to air dry, the stain should have vanished completely.
8. Rubbing alcohol
Rubbing alcohol can break down oily stains, so it's another good one to try on foundation marks. Soak a cloth or a wipe then gently blot and rub over the makeup stain and you should see the mark begin to fade.
However, you don't want to be wiping rubbing alcohol on all your outfits, as the harsh chemical can damage delicate fabrics. You're better of using this hack on more sturdy materials.
9. Detergent pens
If you're prone to staining your clothes with foundation, it might be worth investing in a detergent pen for quick fixes on the go. You can get a pack of three Tide to Go Stain Pens (opens in new tab) on Amazon for just £10 to help you remove tough stains when out and about.
They won't work on all stains, but if you've got a pesky foundation smear along your collar that you want to get rid of, then having one of these in your handbag can be really helpful.
Press the pen onto the stain to release the powerful cleaning solution, before 'colouring in' the stain with the detergent pen and watching it disappear before your eyes.
Video of the Week
Ellie joined Goodto as a Junior Features Writer in 2022 after finishing her Master's in Magazine Journalism at Nottingham Trent University. Previously, she completed successful work experience placements with BBC Good Food, The Big Issue and the Nottingham Post, and freelanced as an arts and entertainment writer alongside her studies. In 2021, Ellie graduated from Cardiff University with a first-class degree in Journalism.