How to measure for a bra: Are you wearing the right size?
Apparently 85% of us have got it all wrong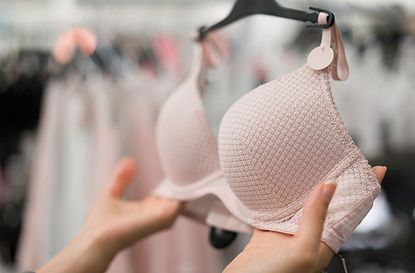 According to lingerie expert June Kenton (Kate Middleton's royal bra fitter, don't you know), 85% of us are wearing the wrong bra size.
From sagging straps to roomy cups or back bands that have seen better days, wearing the wrong size bra can affect everything from our posture to our back pain, and it's time we took our responsibility to support our best assets seriously.
So where is it that we're going quite so wrong, and can we really figure out how to measure for a bra that embraces our boobs, rather than battling with them?
Signs you're wearing the wrong size bra
You can fit more than two fingers under the band
Nicole Kivitz, who works for French lingerie brand Chantelle, told Insider that the number one mistake women are making is buying a bra with a back size that's too big.
'It should be tight,' she explains. 'The more you wear your bra, the more it stretches; that's where the hooks come in.'
Apparently, if you can fit more than two fingers under the band of your bra, it's time to go a size down, or get remeasured. Anyone else just try it and get their whole hand under there? Don't worry, us too.
Your cups don't match the size of your breasts
Chantelle Crabb, resident 'Bra Whisperer' at lingerie brand Curvy Kate, tells us that gaping or overful cups are a big telltale sign that you've not been fitted correctly.
'The cups not sitting flush to your breasts – if your cups gape or your breasts spill out of the front and sides then your cup is the wrong size,' she says.
'And if your wires aren't completely encasing the underside of your boob and sitting tight again your ribcage then you're more than likely in the wrong back size and cup size.'
You're constantly uncomfortable
Newsflash: bras aren't supposed to cause discomfort!
'If you are uncomfortable and your bra is constantly moving around or you feel you have to adjust it, chances are it's the wrong size,' Chantelle confirms.
And it's not just a straps falling down situation - 'if your back band doesn't sit horizontally across your back and turns up in an upside-down 'U' shape then your back band is too big,' she adds. 'The back band does 80% of supporting - imagine it like a shelf to keep your boobs uplifted.'
How to measure for a bra
1. Measure around your ribcage in inches, directly under your boobs and horizontally all the way round. The tape should be snug against your body, not pulled really tight but not loose in anyway. 2. Whatever the measurement is – this is your back size. If it's an odd number then you may want to try the size below and the size above - for instance, if you measure 31 inches then try a 30" and a 32" back. 3. The back band should be firm. Most people who haven't been wearing the correct size will complain that it's too tight, but this will give over time and your body will get used to the sensation. A bra must be firm fitting to ensure it gives you the maximum support. 4. The cup size is directly related to the back size you wear so once you have the correct back size you can find your cup size.
The wires should sit flat in between your boobs, touching your sternum. They should then run all the way under your boob (touching where your breast protrudes from your body) and finish at the other side somewhere under your armpit. Breast tissue goes much further back under your arm than most people think so you should make sure it's all contained in the cup. The cup shouldn't gape and your breasts shouldn't spill out either. The cup should completely encase your entire breast. 5. Lastly the straps. These need to be adjusted to a 'two-finger tension', this means you can only just fit two fingers stacked on top of one another under the strap at your shoulder. They should be comfortable, not fall down and not dig in.
'You need to be aware of what a correctly fitting bra looks and feels like,' Chantelle says. 'When I'm bra fitting I don't tend to 'measure', I go with what a bra looks like' - so if you have any doubt over whether you've got the correct fit, you should still get measured by a professional.
Trusted, informative, and empathetic – GoodTo is the ultimate online destination for mums. Established in 2007, our 15-year-strong archive of content includes more than 18,000 articles, 1,500 how-to videos, and 7,000 recipes.