'Worst 10 days of my life' Jenny Frost reveals that her father has passed away
'I was exactly where I was meant to be... right next to my Dad'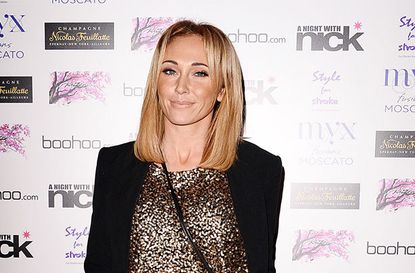 GoodTo newsletter
Sign up to the GoodTo Newsletter. You can unsubscribe at any time. For more information about how to do this, and how we hold your data, please see our privacy policy
Thank you for signing up to . You will receive a verification email shortly.
There was a problem. Please refresh the page and try again.
Former Atomic Kitten star Jenny Frost has revealed her heartbreak at the death of her dad.
Taking to Instagram, the 39-year-old said to her 30.9k followers that she had just been through 'the worst 10 days of her life' after losing her father to cancer.
Jenny's relationship with her dad was known to be estranged and fractured, but the singer took comfort in being by his side and 'right where I was meant to be' until the end.
Alongside a happy snap of her late parents the mum-of-three wrote: 'I'm not one for telling all and sundry my innermost thoughts about my private life, posting cryptic b*****ks on Social Media.'
'But I've had possibly the worst 10 days of my life, although I was exactly where I was meant to be... right next to my Dad.'
Jenny explained that her and her dad were very similar, and that their personalities meant they had a 'far from perfect' relationship.
She continued: 'we see eye to eye on very little... 2 people so similar ... but so very different in the way we thought & the way we lived our lives.'
'We even fell out for 9 months because of it, although thankfully we reconnected a few months ago. But, whatever his faults, my faults, our faults... we loved each other, we told each other all the time & we were together at the end.'
She went on to add a fierce message to the disease: 'So RIP you crazy old git, love you. Give mum the biggest hug from me 💔. And seriously cancer F*** You Cancer - enough already.'
The Liverpudlian then ended the poignant caption with a heartfelt appeal to her fans to repair broken relationships with family members before it's too late.
'The reason why I'm choosing to open up about something to personal now is purely to say... life is short, it's not a rehearsal - IF (because it's not always possible) there are bridges that are able to be built... Go to B&Q, get supply's and build that f****r, meet in the middle and have a drink.'
'Cheers Dad 🍷#togetheragain #mumanddad 💔'.
Fans have rushed to send Jenny messages of support and solidarity at the difficult time, with one commenting: 'The most honest and on point thing anyone could say in this moment. Sorry for your loss.💙'
'Jenny so sorry for your loss,' another added. 'I've lost both parents to cancer, far too young, and feel some comfort that they're together. Your folks have a lot of catching up to do...and will always always watch over you.'