Joey Essex opens up about his mum's tragic suicide during a special episode of Loose Women
The former TOWIE star spoke honestly about dealing with his tragic loss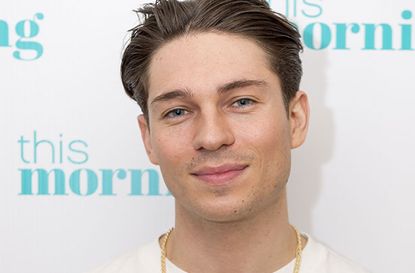 Joey Essex has opened up about his mother's tragic suicide while talking to a panel of men for a special bank holiday show entitled Loose Women and Men.
The 27-year-old admitted that the pain of losing his mother, Tina, who took her own life when he was just 10, would stick with him forever.
One of the panellists on the special bank holiday show, Spandau Ballet singer Martin Kemp, asked Joey if opening up about his private life led him to seek therapy.
Joey said: 'I think with my mum situation, that's a whole over all, I think that will just stick with me for the rest of my life.
He then added: 'I think that's to do with my family, it's not just me, it's a family depression it's not nice. That will hold me for life.'
Joey first shot to fame on reality show The Only Way is Essex in 2013, before competing in I'm A Celebrity... Get Me Out of Here and The Jump.
Earlier this year, the TV personality paid tribute to his late mum by posting the below picture on Mother's Day , captioned with: 'Happy Mother's Day to the most beautiful women. My mum. I know your looking down on me 😇 I will miss you and love you forever ❤️'
Writing in his book, Being Reem, Joey said: 'Some people reckoned I stopped learning because of what happened to my mum.
'Almost like I froze in time. I don't know about that but I remember it hitting me really hard.'
Joey added that he and sister Frankie didn't know that their mum had taken her own life until a friend 'blurted it out in the playground' at school much later on.
'We didn't know mum had committed suicide for about two years,' Joey admitted. 'Dad didn't tell us how it happened to start with, he just said she fell over in an accident.'
The TV star realised his dad was probably just trying to protect him and his sister Frankie. 'I don't think he wanted to deal with it himself,' he explained.
'I was convinced she was staying in a hotel and was coming back.'