'What happened to just eating healthy and exercising?' Katie Price slammed by fans after launching range of meal replacement shakes
'The young girls who follow you need a role model'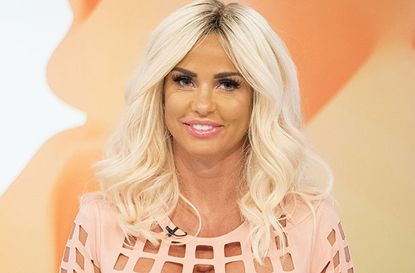 GoodTo newsletter
Sign up to the GoodTo Newsletter. You can unsubscribe at any time. For more information about how to do this, and how we hold your data, please see our privacy policy
Thank you for signing up to . You will receive a verification email shortly.
There was a problem. Please refresh the page and try again.
Katie Price has been slammed by fans after announcing that she'll be launching her meal replacement shakes.
The Loose Women star posted some 'exciting' news to her Instagram account yesterday, revealing that she is adding a range of meal replacement shakes to her empire under the name of 'Katie Price Nutrition'.
The mum-of-five revealed an image of her forthcoming product, posting a picture of a grey and hot pink tub featuring her trademark Katie Price branding.
She captioned the pic: 'So excited about the launch of 'Katie Price Nutrition' next week. Watch this space!!! ✨✨'.
However, many of Katie's fans were less than impressed with her latest venture, with some many criticising her decision to choose a meal replacement product.
'Oh here we go. Another one!' one wrote, comparing her to other celebrities who have promoted similar diets.
Others pointed out that it's generally perceived as being healthier to exercise, writing comments such as, 'or just eat less and exercise more 😉😂' and 'As much as I think you're a great role model to older and younger people, and what you do is great! I don't agree with these meal replacement tablets... what's happened to just eating healthy and exercising regularly?!'
'As a qualified nutritionist this makes me very sad... disappointed you're using your influence to push such an unhealthy attitude to food and nutrition @officialkatieprice,' another added.
Several other social media users also questioned the effects of such an influential star promoting this type of eating pattern on 'role model' Katie's fans.
One user wrote: 'Cause every young woman needs these?'.
A second user added: 'Your beauty and clothes range fit perfectly with the KP brand but 'nutrition'? And the first thing you promote is 'meal replacement'? The young girls who follow you need a role model of a healthy balance diet with exercise and not how to skip meals........'
Another suggested that a healthier option involving more 'vitamins and minerals' would be a better idea: 'I have been following you for years now (like everyone else) and absolutely love you - but there's something a bit off about meal replacement.'
'I don't think any proper doctor or nutritionist would encourage anyone to skip a meal if you can be pumping your body with vitamins and minerals through fresh fruit and vegetables... meal replacements probably encourage binge eating in the long run. Why not include a 'green powder' or something that promotes health naturally? Even a KP exercise/health book etc. I'd love to see how you keep fit as a busy mum or when travelling!'
[apester]58f9da5b240e61ee26bf386c[/apester]