'You look rough!' say the other Loose Women after Katie Price burns her lips on sunbed
Ouch!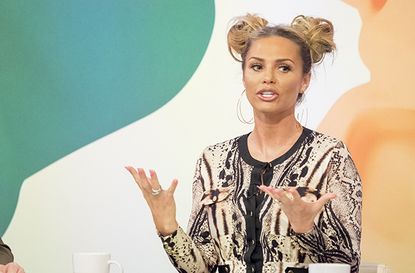 Katie Price has received strong words from her Loose Women co-stars after burning her lips on a sunbed.
The former glamour model appeared on Loose Women and spoke about her lips, revealing the criticism she's had from her fellow panellists on the show.
Katie said,'When we walk in we don't wear our makeup and it's early, and all this lot are saying "god you've scrubbed up alright haven't you?" Am I that rough without it all then?' Not one to hold back, Coleen Nolan was quick to share her opinion that she thought Katie looked 'really rough' that morning, as she arrived for the show.
Explaining what had happened, Katie said: 'I burnt my lips on the sunbed, which isn't good, but they've covered it up well.'
http://www.youtube.com/watch?v=MrkXYK4QVOk
Andrea Mcclean agreed that the makeup team had done a good job 'covering up' Katie's lips as she said, 'really well, you didn't look like that at half past eight.'
Mum of five Katie then admitted that, 'Actually I had stuff put in my lips last Wednesday… and I'm going to have some more put in tomorrow as well.'
Clearly unimpressed Coleen replied, saying: 'If she was my daughter she'd get back handed,' as Andrea Mclean simultaneously said: 'They're going to be bigger than your head!'
And it wasn't just her colleagues on Loose Women who were criticising Katie's lips - there were multiple pictures of her published across the internet with what looks like sore marks on her mouth. In classic Katie style however, she hit back. Taking to Instagram she posted one of the more unflattering images of herself along with the caption, 'isn't it funny paps always use weird angles to make you look weird and yes I have a cold sore wow that's big news as nobody ever gets them ...d*cks'
Shortly afterwards she posted a close up picture of her burnt, newly filled lips saying, 'sorry paps you didn't get that close I beat you too it 😋'
It's not clear why Katie has claimed it was a cold sore after revealing she'd burnt her lips on sunbeds during Loose Women, but either way - stay off those sunbeds Katie!
Rosie is an experienced food and drinks journalist who has spent over a decade writing about restaurants, cookery, and foodie products. Previously Content Editor at Goodto.com and Digital Food Editor on Woman&Home, Rosie is well used to covering everything from food news through to taste tests. Now, as well as heading up the team at SquareMeal - the UK's leading guide to restaurants and bars - she also runs a wedding floristry business in Scotland called Lavender and Rose.