Eternal star Kelle Bryan breaks down in tears as she opens up about lupus battle
The former Eternal singer has revealed that her lupus condition has become so severe that getting an infection could kill her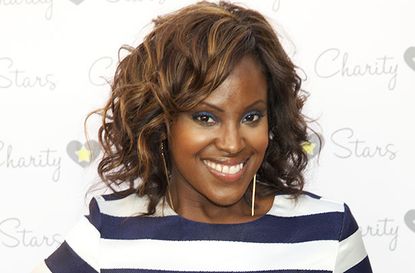 Former Eternal singer Kelle Bryan fought back tears on Loose Women as she opened up about her battle with the blood disease lupus, which has become so severe getting an infection could kill her.
The mum of two, who was part of the 90s band Eternal alongside Louise Redknapp, Vernie Bennett and Esther Bennett, announced that her brain is now free from the disease, which resulted in seizures and periods in intensive care.
She told the panel: 'I've just had a brain scan and lupus is not on my brain which is a really nice piece of news. I've got a bout of chemotherapy in about six months time.'
However, Kelle, 41, also revealed her heartbreak at not being able to touch her kids for risk of getting ill. She opened up about the time she was left fighting for her life over the summer, after her daughter contracted an infection at school.
She said: 'Within 48 hours I was coughing up blood and taken into intensive care. It went from a cold to pneumonia within 48 hours and that's how aggressive the disease is, which is why sometimes I have to wear a surgical mask.'
The condition can be so dangerous that Kelle sometimes has to wear gloves to hug her children.
'Sometimes I can't touch them at all which is really hard,' she added. Kelle was diagnosed with lupus in 2000, after she woke up one morning unable to move her finger. The condition, which the singer said is 'definitely aggravated by stress', coincided with the time when she left the band and was coping with her parents divorce.
Since then she said the disease led to 'liver, kidney damage, as well as arthritis symptoms, hair loss, mouth ulcers, sores, face, arms, down your body and they just don't heal because you're constantly fighting your own body.'
The singer previously opened up to The Daily Star about her battle, saying: 'I normally wear a surgical mask and gloves because I'm highly susceptible to infection. My lupus means if I pick up an infection I could die because there is nothing to fight it.
'I can't touch my own children because it could actually kill me.'
Kelle, who is now a lupus awareness campaigner and patron of the St Thomas Lupus Trust, added: 'People know me for being glamorous and going to red carpet events but this isn't anything like that. It's real pain. I've got two kids who have had to watch their mum go through this.'
The lupus went to her brain, causing her to suffer a seizure. Kelle was left unable to walk or talk, both of which she had to learn again.
Kelle with her Eternal bandmates pictured in 1994
She isn't the only celebrity to battle the illness - singers Selena Gomez, Seal and Toni Braxton have also spoken out about their struggles with lupus.