Kelly Osbourne reveals secret battle with 'awfully debilitating' Lyme Disease
'I trust my intuition. If I think something is wrong, I refuse to let anyone dismiss it.'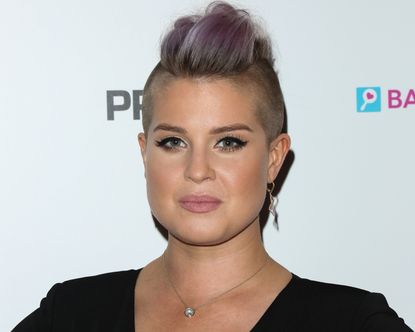 (Image credit: FilmMagic)
GoodTo newsletter
Sign up to the GoodTo Newsletter. You can unsubscribe at any time. For more information about how to do this, and how we hold your data, please see our privacy policy
Thank you for signing up to . You will receive a verification email shortly.
There was a problem. Please refresh the page and try again.
Kelly Osbourne has opened up about her struggle with stage III neurological Lyme disease (opens in new tab)
in her first memoir.
The daughter of Sharon and Ozzy Osbourne has released an extract from her first memoir named, 'There's No F***ing Secret: Letters From a Badass B****', which reveals details around her disease.
Kelly originally contracted the tick-borne disease in a reindeer sanctuary in the backyard of her family's England home in 2004.
At first the star was misdiagnosed and was medicated with pills that left her feeling like a 'vegetable'. It was after this that she visited a German clinic for £32k a fortnight and started stem cell therapy in a bid to strengthen her immune system.
Speaking of when she found out that she had Lyme disease, Kelly said, 'I was relieved to finally know what was going on, but I was also scared s***less... I started stem cell therapy.
'Rather than trying to kill off the disease with antibiotics, this treatment worked to strengthen my immune system so my body could fight off and get rid of the disease on its own, which is a much more complete and lasting cure.'
Up until now the socialite has kept her illness a secret, revealing that she was tired of seeing 'sad celebrities play the victim on the cover of weekly mags'.
'I've kept quiet about my Lyme disease, not only for fear of pharmaceutical companies coming after me because of the cure I found in Germany but also because it seems like the trendy disease to have right now.'
The 32-year-old spoke about how after suffering with the 'debilitating' disease, she always trusts her instincts when it comes to her health.
'Since I know firsthand how awfully debilitating it is, I know who really has it and who is just trying to prolong their 15 minutes. I don't understand how anyone could think that the life you have to live with Lyme disease is glamorous.
'I've learned to advocate for myself when it comes to my health, and I trust my intuition. If I think something is wrong, I refuse to let anyone dismiss it. And sadly, I stay the f*** away from reindeer.'
Kelly is famous for her rock and roll parents, X Factor judge Sharon Osbourne and Black Sabbath star Ozzy Osbourne. She rose to fame in the family's reality TV show, The Osbournes, and since has worked as a fashion design, TV presenter and singer.