'It's really how everybody should eat' Kirstie Allsopp reveals the secrets behind her two stone weight loss
She says she's never discussed her weight loss journey with her husband of thirteen years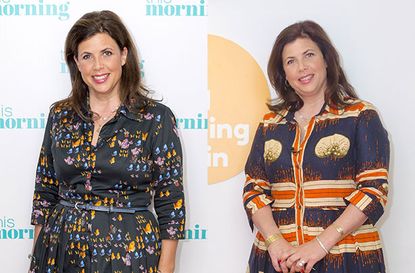 Earlier this year, Kirstie Allsopp impressed fans with her weight loss after following the same diet that helped fellow celebs Sam Smith and James Corden to slim down.
Now the Location, Location, Location host has given further insight into the changes she made to her lifestyle, claiming 'it's not complicated' and urging everybody to take responsibility for their own health.
'It's really how everybody should eat. We just should have more greens and less sugar,' she told MailOnline. 'That's the most extraordinary thing when you reduce your sugar. It's weird, it doesn't feel as if you're depriving yourself when you think it isn't part of your life.'
'Like with smoking, like with drinking, like with driving too fast and all the things that are bad. We all make our choices. In the main, there are some conditions which make it harder to lose weight. Those are very, very few and far between. The majority of us can if we want.'
Speaking to the paper, Kirstie also made the surprising reveal that she's never, ever discussed her diet or weight loss journey with her partner of thirteen years, Ben Anderson, and she's not even sure if he's noticed!
'I've never asked and he's never made any comment. We've never discussed it,' she explained. 'The decision to lose weight is not about other people. It's only about other people in that you have a responsibility to your health. We all have our own personal paths. You have to believe it's right to do it.'
Addressing the subject of her weight loss previously, Kirstie detailed how her looming 50th birthday added additional pressure to loose the pounds. 'Being overweight on your 50th birthday is the number one risk factor for breast cancer, which my mother got when she was 41; she died in 2014 when she was 66,' she said.
'I put on two stone between 40 and 44 and decided that I was being irresponsible as a parent and a partner and it had to go.'
Speaking on Chris Evans' Radio 2 show previously she admitted other reasons behind her weight gain, 'I put on 2 stone between 40 to 44/45.'
The 45 year old credited her success to nutritionist and author of Eat Nourish Glow Amelia Freer, who was formerly assistant to Prince Charles before training as a nutritionist.
'Have you ever heard of a woman called Amelia Freer?' she asked host Chris. 'She's amazing. I read her books, took her advice and went to see her. It's all about maintenance and it's totally easy to keep it up.'
Here, we take a look at the secrets behind Kirstie's success...
Eat three meals a day
During an interview with MailOnline, Kirstie expanded on the metabolic balance diet set for her by Amelia Freer, revealing that she eats strictly three meals a day, all of which have to be a certain amount of time apart.
'I eat three meals a day — I do not leave the house without having breakfast.'
'What is key is having five hours between meals and not having anything except water during those five hours.'
Get moving
Kirstie has said in the past that where she lives has impacted her ability to exercise, counting herself 'lucky' as she lives 'in Holland Park, West London, and the streets have quite steep hills. So I do half an hour of running up and down hills in the morning to get my heart rate up.'
Although the TV star was also careful to point out that 'it's a myth that you can exercise yourself thinner; exercise has to be done in conjunction with eating differently.'
Fans and followers noticed Kirstie's svelte figure while she was busy working up a sweat hitting the pavements on social media. Posting her running progress on Twitter, Kirstie admitted that although she was tired she was still willing to get moving and go on a run.
Replying to a tweet which read: 'Sleepy but off for a run in my new favourite T-shirt,' followers instantly noticed her slimmer-looking face.
Fans responded with encouraging messages such as: 'have you lost weight? Looking very healthy either way Ms Allsopp' and 'Wow you've lost pounds! Looking healthy there Kirstie. Well done', so it seems her good work hasn't been going unnoticed!
Cut out sugar
Following Amelia's advice, which involves ditching processed foods Kirstie discovered that completely cutting out sugar is another key to success.
She admits it's a difficult task, but has previously been quoted by the Daily Mail saying: 'I do find I have to work really hard to keep it from creeping up, because when I'm filming around the country I've got little control over what I'm eating. If I stay away from sugar, the weight stays off like it did when I was in my 30s, a size 14 on the bottom and 12 on the top.'
Avoid alcohol
Another huge part of following the famous Amelia Freer diet is to cut out alcohol from your diet when trying to lose weight. Kirstie told the Daily Mail that she still drinks, but only certain beverages: 'Wine doesn't agree with me so now I drink vodka martinis, she said.
Writing for the same paper, Amelia has said of alcohol in your diet: 'Just a few glasses of wine contains more sugar than a chocolate bar.
'Alcohol can also lead to huge blood sugar fluctuations, which directly impact your energy levels, food choices and waistline.'
Parenting advice, hot topics, best buys and family finance tips delivered straight to your inbox.
Trusted, informative, and empathetic – GoodTo is the ultimate online destination for mums. Established in 2007, our 15-year-strong archive of content includes more than 18,000 articles, 1,500 how-to videos, and 7,000 recipes.