How Sam Smith lost over a stone in two weeks on the Amelia Freer diet plan
Here's how the prince of pop has lost 14 pounds in just a few months!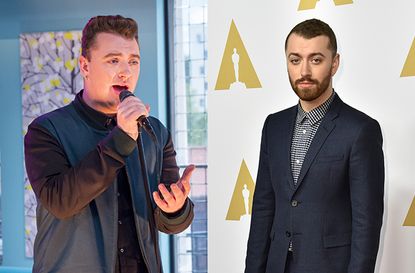 Sam Smith first broke onto the scene as a slightly awkward, shy teenager with one heck of a voice.
A few years on and Sam certainly isn't shy or awkward, and there's been one massive change from the start of his career - it appears he's lost a lot of weight. So, what's his secret? And how has he managed to remain eating his favourite foods while losing weight?
Well it's mainly down to one woman - health blogger Amelia Freer! Amelia favours fresh, seasonal ingredients, full of flavour, with health boosting-properties. Sounds good to us! Sam is a big fan of a healthy cookbook called 'Eat. Nourish. Glow', by healthy eating expert Amelia. He's often plugging her recipes and lifestyle advice and seems to have a really close bond with the nutritionist. Even when he's on the road he's keen to show her, and his fans, that he's sticking to sensible food choices. Sam calls his friend's book 'incredible' and often credits her for his weight loss.
He was smitten early on, commenting on Instagram in the first three weeks of his diet change, 'Three weeks ago I met a woman who has completely changed my life. Amelia Freer has helped me lose over a stone in 2 weeks and has completely transformed my relationship with food.
'Everyone go check out her incredible book, and start to live healthy. It's not even about weight loss it's about feeling happy in yourself. Love you Amelia & thank you for making me feel so happy inside and out @ameliafreer #eatnourishglow'
Amelia's colourful recipes will nourish your body from the inside-out, meaning not only will you drop the pounds, but you'll also enjoy more energy and better sleep - not to mention glowing skin and stronger hair.
Here's how Amelia Freer helped Sam Smith lose over a stone in just two weeks with her golden diet rules
Build a healthy plate
When it comes to a balanced diet, it's all about getting the right amounts of each food according to Amelia. And so many of us are eating too many carbs and not enough veg. Fat has received somewhat of a bad rep over the years, but healthy fats are actually essential for a balanced diet, and should be included with each meal.
This is Amelia's top line guide to building a healthy plate.
Start with veg (include a rainbow of colours)
Include a portion of protein
Add some healthy fat (e.g. a good drizzle of oil or a sprinkle of seeds/nuts)
Add complex carbs or minimally processed wholegrain if you're feeling hungry or have higher energy demands
Have regular detox days
The pop star loves to share his little tips and tricks with his fans and a recent one was a bottle of chilli flakes as a topping for his meals. Chilli is well known for speeding up the metabolism, so it could be that Sam was feeling a big sluggish and needed a pick-me-up. And guess who was behind the idea? Correct, his old pal Amelia.
Cook from scratch
One of the most important things Amelia stresses in her book, which Sam religiously follows, is to cook from scratch. Sam seems to be taking notes with frequent snaps of his food prep.
Eat the rainbow
Just look at the colour of that veg! Ditching the carbs seems to be a common theme throughout celeb diet trends and Sam appears to be on board. This boy loves his fruit and veg with pics a-plenty of healthy juices, salads and meals involving the lovely stuff.
It's ok to have 'cheat days'
Luckily for all of our viewing pleasure Sam isn't overly preachy. We love this snap of a full fry up. The singer has previously publicly spoken about his love of food, telling Magic Radio, "Food is the big thing for me. I'm moving around all the time, but I just love food. I still love it. It's going to be a battle for the rest of my life.'
"I mean it's not like this horrible diet that kills me. When I want to eat something bad I do it, but I've just got to stay on top of it, which is tough. I just love fried chicken and cheese!"
Don't we all Sam, don't we all.
Rosie is an experienced food and drinks journalist who has spent over a decade writing about restaurants, cookery, and foodie products. Previously Content Editor at Goodto.com and Digital Food Editor on Woman&Home, Rosie is well used to covering everything from food news through to taste tests. Now, as well as heading up the team at SquareMeal - the UK's leading guide to restaurants and bars - she also runs a wedding floristry business in Scotland called Lavender and Rose.