'I go up and down like normal women' Lauren Goodger hits back at dress size questions after 'poor quality pap shots'
'It's awful how your made to feel like you have to justify what size clothes you are!'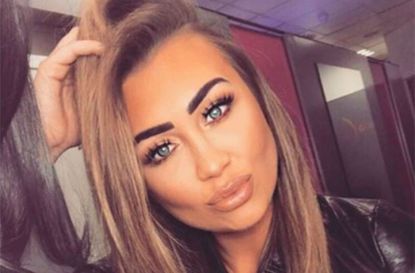 Lauren Goodger has spoken out on Instagram about 'poor quality pap shots' and confirmed her dress size for fans who were 'confused' after seeing pictures of her looking different.
The TOWIE original took to social media to show off a lovely new dress she was wearing, posing at what appeared to be her home in the floor length, floral number.
But after encouraging fans to purchase their own dress, the reality TV star was flooded with requests asking her weight and dress size, with some followers referring to seeing pictures of Lauren looking different to on her Instagram.
Lauren wrote, 'Love my @silkfred beautiful long floral dress! You can get 10% off too with my discount code - LAURENG10 - #LoveSilkFred #SFTribe @silkfred 💋🌸🌷#justnow #today #wed #flattering #alloccassions'
She was met with questions from fans around her dress size, with one referring to pap shots they had seen in a publication, saying, 'what size are you then or are they old pics'.
Shortly after, the 30-year-old star, who revealed she'd lost 10lbs in January (opens in new tab), posted another image to the social media site confirming that her dress size is a medium and explaining that photographers attempt to take 'poor quality' photos on purpose.
Lauren snapped the label of her new dress to prove her dress size once and for all, writing an empowering caption next to it.
'Everyone asking what size my @silkfred dress is in my picture today as they being confused by pap pics lately which make me look different facially and body shape wise
'I'm not saying they have been messed with but they certainly shot in some sort of way to achieve such poor quality of a photo.'
The ITV favourite continued to confirm that she is generally a size 10-12 and that her body shape has 'boobs and bum'.
'So my dress is a size Medium which in there sizing is 10-12 it fits so comfortably with room and falls right..
'I am currently 10-12 I have boobs and bum I'm still doing my fitness despite what the mags say it's not something that ever stops, a goal doesn't stop so it's something that I'll always be doing which is reaching new goals and training and dieting.'
Finally, Lauren ended her message to say that like 'normal women' her weight fluctuates but that she still has goals that she's aiming towards.
'I do go up and down like normal women do ! So for anyone asking @silkfred can confirm .. happy shopping 😘💗 new goal size is get to size small. 😂'
Fans rushed to support Lauren, commenting on how great she looks and that women shouldn't be made to feel 'insecure' about their dress size.
'It's awful how your made to feel like you have to justify what size clothes you are! As if women don't struggle enough with body insecurities! Your beautiful!'
'To me your curvy woman & that's what most men like that 👌 I always wanted to be stick thin when I was in high school starving myself making myself ill... now I've grown up I don't wanna be stick then I wanna be healthy slim & happy!! Your doing a fab job keep it up x'
'Omg what does it matter your such a pretty girl and you have a lovely figure !?!'