Lauren Goodger reveals how she's lost 10lbs in less than a month
'I've been going to the gym every day'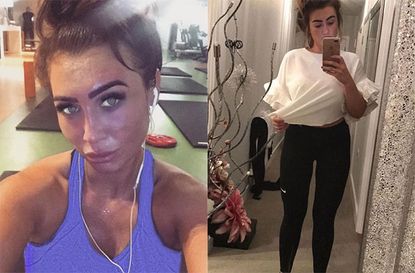 Lauren Goodger is a woman on a mission.
Since her TOWIE debut in 2010, her weight has fluctuated, but for 2017 she's determined to get strong, fit and healthy - and her regime is certainly working, as she's revealed she's lost more than half a stone in January already.
'I've lost 6lb so far this month and I'm convinced it's because I'm not drinking alcohol. My face is a lot less bloated,' the reality star wrote in a recent new! magazine column. 'I've been going to the gym every day, but I've also been eating really clean.'
And now, according to her Instagram account, she's lost even more weight since, bringing her total loss up to an impressive 10lbs.
'Another 4lb lost. Its getting harder sticking to the diet, no drinking and gym. But the results are worth it. 2 weeks from today target: to lose another 5lb' she said alongside, hashtagging the post" #diet #noalcohol #gym #gradual #notextreme #train #endgoal #excusethemess #gymclothes'
Want to follow in Lauren's footsteps and make this your healthiest year yet? Here are her diet and exercise secrets...
Mix up your workouts
It's no secret that exercise is a big part of any healthy lifestyle, and Lauren's been showing her dedication by hitting the gym every single day. Refreshingly, she's honest about the fact that working out might not always be her favourite thing, but says that the important part is to make it to the end of the session, whether you have a smile on your face or not!
'Not gona lie I'm hating every minute of training today! All my tan sweating off and cardio is so boring! But I still have done it .... this face says it all 😡#nofilterneeded #sweaty #messy 😑' she wrote alongside a recent Instagram post.
She added in her column that she's been 'mixing up' her regime: 'Instead of just doing weights and using cardio machines like the treadmill, I've been swimming.'
'My aim is to do at least 60 lengths in the pool - and go for long, brisk walks.'
Eat sensibly
Lauren says she's been 'eating clean', and has been focusing on eating plenty of lean protein like chicken and tuna, with a 'few carbs' thrown in. She's also cut alcohol from her diet, which she says has been a big factor in feeling less bloated.
However, she still enjoys meals out and the odd sweet treat - in August last year, she said: 'I don't care about having to be a size 8, it's about how I feel. If I want something sweet I'll have dates and yoghurt but I'm addicted to Pop Tarts.'
Be honest with yourself
During an appearance on Loose Women in 2016, Lauren said that when she'd gained weight in the past, she'd been 'in denial' about her size.
'I came on TOWIE, I didn't have a routine, I lived a party girl lifestyle drinking a lot and eating a lot and my weight crept up without realising it,' she said. 'I looked back and thought I was a size 10 to 12 but I was actually a 16.'
'I wouldn't think about it, just eat what I wanted. I didn't cook, I ate out a lot.'
As Lauren now knows, recognising your triggers and addressing them is often the first move in making beneficial choices in the future, so face up to where you are now, and then you can...
Set clear goals
Lauren's given herself a target to aim for - she wants to be the same size she was when she launched her fitness DVD in 2015.
'My plan is to lose another 6lbs by the end of next month. At the moment I weigh about 10st 7lbs but I'd love to get back down to 9st,' she wrote in her new! magazine column.
Lauren is already in the upper end of the healthy BMI range for her 5 foot 5 inch frame, but toning up and slimming down to 9 stone will bring her to the lower half of that spectrum.
'I want to be tiny again!' she adds. 'I'm hoping by around March I will be.'
Parenting advice, hot topics, best buys and family finance tips delivered straight to your inbox.
Trusted, informative, and empathetic – GoodTo is the ultimate online destination for mums. Established in 2007, our 15-year-strong archive of content includes more than 18,000 articles, 1,500 how-to videos, and 7,000 recipes.