We earn a commission for products purchased through some links in this article.
We're saddened to hear about the death of former child star Lil' Chris, who rose to fame on Channel 4's Rock School, at the young age of 24.
The singer, whose real name is Chris Hardman, was found dead in Lowestoft on 24th March. No cause of death has yet been confirmed, but police are not treating the death as suspicious.
Chris started his career on reality show Rock School, fronted by Gene Simmons, in 2006, and released a single called 'Checkin' it Out' shortly afterwards. Since then, he had performed in the musical Loserville, and was said to have been working on a new album when he passed away.
Chris in his Rock School days
There has been an outpouring of sadness at the news from fans and celebrity friends alike.
Harry Judd, of McBusted, tweeted: 'Shocked and saddened to hear the news about Lil' Chris. He supported us a while back and was a little star and an awesome guy. ‪#RIPChris‬'
TV presenter Vernon Kay echoed his sentiments, 'RIP LillChris. He was the standout performer on T4sRockSchool. We had some good times… Sleep easy bud.'
Caroline Flack also sent out a message: 'Oh my god . Lil Chris . He was a regular guest on TMI. Always always such a polite lovely guy . That's so sad.'
Before his death, Chris was said to have been experiencing depression, and had previously tweeted with reference to the condition: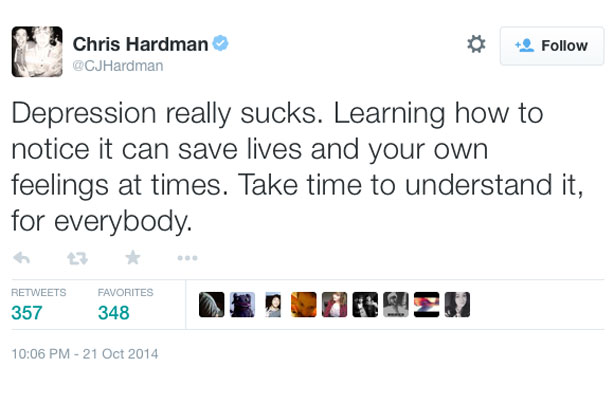 Earlier last year, he also wrote: ' I hope to one day create a way out of depression that doesn't mean taking your own life. The Cure.'
If you're experiencing depression, or know someone who is, you don't have to suffer alone. Speak to your doctor or visit mind.co.uk for more information or support.