#LoveYourLines - the empowering campaign that'll change the way you look at your stretch marks forever
You're a tiger, and you've earned those stripes.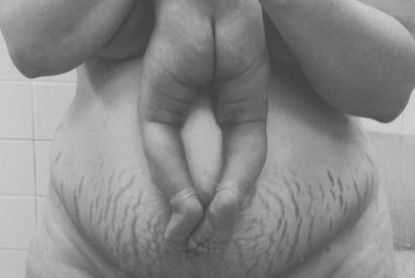 Image: Instagram/loveyourlines/userunknown
'It's been 4 weeks. I'm still learning to love my lines.'
Whether it's through weight gain, pregnancy, or just generally growing in the body we own, stretch marks (opens in new tab) affect approximately 90% of women - and they're a fact of life that many of us struggle with.
Every year, we spend thousands of pounds on products like cocoa butter and Bio-Oil, hoping to fade them into obscurity, but for most of, us they're inescapable.
Even super-toned supermodels aren't exempt from these lines, as American model Chrissy Teigen proved recently when she shared this picture on her Instagram account, with the caption:
'Bruises from bumping kitchen drawer handles for a week. Stretchies say hi!'
Image: Instagram/Chrissy Teigan
Chrissy, 29, who is married to singer John Legend and has posed for high-profile publications including Sports Illustrated, seemed to have no qualms about sharing her unfiltered thighs with her 2 million followers, and has since had endless comments on her picture thanking her for her refreshing, unashamed honesty.
'Showing that you have imperfections like everyone else really speaks to your character! You go girl!!' one commenter wrote, whilst others exclaimed, 'You're so inspiring and gorgeous! I honestly thought someone as beautiful as you couldn't have stretch marks... But you inspired me to embrace it and not to be ashamed of my stretch marks! Thank you!'
Not only has Chrissy's post boosted the confidence of hundreds of her fans, it has also sparked a resurgence in posts as part of the Love Your Lines (opens in new tab) campaign, a project established by two mums to celebrate 'real women, real bodies and real self love.'
It's become a global phenomenon, with women from across the globe contributing pictures and sharing their stories with confidence and pride.
Image: Instagram/loveyourlines/userunknown
The owner of this image wrote: 'Hi I am Elisa, I am chilean. I am twenty-two years old. Before...my figure was thin and without scars ... I liked that life, that style and that figure! Stretch marks came out in pregnancy, but I like them, they're cute and show my strength and are soft evidence that I gave life.
Image: Instagram/loveyourlines/butter_brown
It's not all about the tummy either - women with stretch marks on other areas of their body have been posting the intimate snaps too.
Image: Instagram/loveyourlines/userunknown
The caption for this picture reads: 'I wish I could blame my lovelines on childbirth or weight gain because of it. However, My child is now a young man of 19. My lovelines are caused by weight gain of my own doing or lack there of periodically over the last few years. They appeared slowly and one day...well, I looked and they were here. I dont mind them...because although they have painted smooth golden skin...they tell my story. I am a woman...with much to share.'
In fact, every post on the page is different - even women who have suffered from cancer or self-harm have bravely shared pictures of their scars - but the one thing that links all of the stories is the sense of self-love and strength conveyed in every image, and the kind words in the comments underneath.
The positivity of the Love Your Lines campaign is enough to make even the most shy, self-conscious lady proud of her body, however it may look - so next time you look in the mirror and see a 'stretchie' or two, remember these pictures, remind yourself that you're not alone, and try loving your lines instead.