Why has the UK lost 'measles-free' status - and vaccines could become 'compulsory'
Measles may well become 'endemic' in Britain within 30 years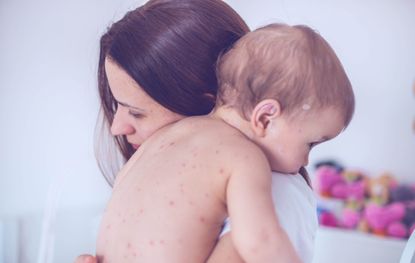 (Image credit: Getty Images)
GoodTo newsletter
Sign up to the GoodTo Newsletter. You can unsubscribe at any time. For more information about how to do this, and how we hold your data, please see our privacy policy
Thank you for signing up to . You will receive a verification email shortly.
There was a problem. Please refresh the page and try again.
In August, the World Health Organisation (WHO) confirmed the UK had lost its measles-free status.
In 2017 the country was given the measles elimination status, after having a limited spread of the disease for the previous three years. That status has now been revoked following a dramatic increase in reported cases of the highly contagious virus.
In light of the increase of measles in the UK, health secretary Matt Hancock is 'looking very seriously' at making measles vaccinations compulsory for all children attending school in the UK.
Speaking at the Tory conference in September, he said: 'For measles, the falling vaccination rates are a serious problem and it is unbelievable that Britain has lost its measles-free status.'
He continued his firm stance: 'When the state provide service to people then it's a two-way street. You have to take your responsibilities too.
'I have received advice from inside government this week on how we would go about it and I am looking into it very seriously.'
Previously, Mr Hancock said he was looking at 'all options' to boost England's vaccinations including compulsory immunisation for children. While he hopes not to 'reach the point' of compulsory jabs, he aid he would 'rule nothing out'.
A new study has revealed that measles may well become 'endemic' in Britain within 30 years, unless vaccinations are made compulsory.
Computer model analysis found that current efforts to contain measles will likely not be sufficient, and that making vaccinations compulsory upon entering school would 'strongly benefit' the work to fight the disease.
Dr. Stefano Merler, from the Bruno Kessler Foundation, Italy, told The Telegraph: 'Our results suggest that most of the countries we have studied would strongly benefit from the introduction of compulsory vaccination at school entry in addition to current immunisation programmes.'
It's certainly pretty terrifying to hear. In fact, some European countries have even taken these exact precautionary steps already.
Nine EU countries; the Czech Republic, Bulgaria, Croatia, France, Italy, Latvia, Hungary, Slovakia and Poland have already made the MMR (measles, mumps, rubella) vaccine compulsory, in order to battle against the disease. Just three months ago, Germany also revealed their intention to make the MMR vaccine compulsory too.
In some countries, parents could also be liable to pay a fine if their children are not immunised.
However, the results so far have been mixed, with the number of cases of measles having gone up in the EU, despite an increase in overall immunisations, according to Euronews. What do you think about compulsory vaccinations - should it become a policy in the UK, or not? Take part in our poll..
[apester id="5d5fea9b511900e1c609336b"]
So, in light of the news, we've explored why is the UK no longer measles-free, and what it may mean for the health of the country going forward...
How has the UK lost its measles free status?
To qualify as having 'eliminated' measles, WHO states that a country needs to have no circulating instances of the disease, high vaccination rates, and solid systems in place to identify and tackle an outbreak.
But in the UK recently, measles cases have risen rapidly. The British Society for Immunology reports that instances tripled in 2018, when there were 991 confirmed cases across England and Wales.
It's a huge figure compared to 2017, where the UK saw 284 confirmed cases. And while there are not yet official, year-long figures available for 2019, in the first three months of year alone, 230 cases were reported - meaning the country is likely on track to hit similar numbers to 2018.
In fact just a few months ago, mum Jilly Moss shared a terrifying warning to other parents about the spread of measles - revealing that her one-year-old baby was hospitalised after contracting the disease. Worryingly, her daughter was too young to be protected from the illness, demonstrating how important it is for others to be immunised to prevent the disease spreading.
https://www.facebook.com/Beanlady/posts/10156023421786957
Public Health England have confirmed that the reason behind the UK losing its elimination status is because one particular strain of the virus – B3 Dublin – was found for over than 12 months in the country between 2017 and 2018.
According to WHO regulations, a 'measles free' status can be revoked if strains of the virus are found in one country for over a year - which is exactly what has happened in the UK.
Why is the UK no longer a measles-free country?
Rates of measles vaccinations (opens in new tab) have reached a recent low.
Young people require two injections to complete the MMR vaccine. MMR is the vaccination for mumps, measles, and rubella, and is typically administered to young babies and children.
Currently, only 87.2 per cent of children in England are getting both doses of the vaccination - with Public Health England revealing that one in seven 5 year olds starts school without the second dose, according to the British Medical Journal.
The situation is even worse in London, where one in four five year olds have not yet had the full vaccination.
But in order to interrupt the spread of measles if cases start to come up, it is key to have at least 95 per cent of the population vaccinated - a number that's currently not being achieved in the UK.
Just yesterday, whilst visiting a hospital in south west London, Prime Minister Boris Johnson announced that there would be a renewed effort to get the MMR vaccination rates back up to 95 per cent
The revoking of the UK's measles-free status has prompted questions about the role of 'anti-vaxxers' in the change of status. Anti-vaxxers are people who choose not to vaccinate their children, for a number of different reasons. It's believed that some fear the unknown effects of vaccinations.
Other parents may have been affected by the scare over the MMR vaccination some years ago. In 1998, Dr Andrew Wakefield published a paper in medical journal The lancet, claiming that there was a link between the MMR vaccine and autism.
However, his work has since been completely discredited, and he has been struck off his work as a doctor.
However, people not vaccinating in general isn't the only reason for the UK losing its measles free status.
Dr Jennie Evans, Head of External Affairs at the British Society for Immunology, explained: 'It is very concerning that the UK has lost its 'measles-free' status.
'For the vaccine to provide maximum protection, children need to receive two doses, the first dose at 12 months, and a second booster dose at 3 years 4 months.'
She continued, 'The majority of children (87 per cent in England) do receive both these vaccines, but a small minority will only receive one or no doses. Because measles is so infectious, this lower uptake rate means that the disease can still circulate in our communities, and has led to the recent increase in measles cases that we've seen.
'The reasons that not all children receive both doses of the MMR vaccine are many and varied, from how accessible services are to awareness on when each dose is needed.'
So it seems that people may not be against the vaccination as such - but may simply be unaware of when to get their children to the GP for the second injection, while others may be unsure of how to access the vaccine in general.
Dr Jennie continued, 'We need to make sure that healthcare services are accessible to parents and that they are properly resourced with expert staff who can engage with undervaccinated communities, gain parents' trust and answer any questions they have. We also need to provide better information for parents on how vaccines work, why they are important and when children should get them.
'If you're worried that your child has not received two doses of the MMR vaccine, get in touch with your GP surgery and make an appointment. It's never too late to catch up and ensure that your child is protected against this nasty disease.'
How can the uptake of the MMR vaccine be increased?
The British Medical Journal has explained that the Department for Health and Social Care is due to devise a strategy to increase vaccination uptake.
Apparently, this could include using technology to identify who may have missed vaccinations, to issue reminders to people, and to make booking appointments easier.
Venues other than GP surgeries will be also considered for carrying out the vaccinations, in order to make up for the increasingly strained facilities and medical staff as local practises.
Boris Johnson also announced that he will be working with social media companies, to ensure the messaging around vaccinations is accurate and truthful; while the NHS website will be updated to counteract any misleading information about vaccinations.
Dr Doug Brown, Chief Executive of the British Society of Immunology, said, 'Improving vaccine uptake is a complex issue and it requires many stakeholders, including the Government, NHS, local authorities and local communities, to work together to prioritise immunisation services and learn lessons from regions that are performing well.'
Why is the MMR vaccine so important?
The NHS explain that measles, mumps and rubella are highly infectious, and can cause serious - and potentially life-threatening - health complications.
There's no specific treatment for measles, and most people can recover in 7-10 days. However, in some cases, particularly in young babies or children with a weaker immune system, complications can develop; such as pneumonia, eye and ear infections, and even - in very serious cases - meningitis or encephalitis, an infection of the brain.
There's also a risk during pregnancy if you are not vaccinated against measles. They include the risk of miscarriage and stillbirth, or your baby having a low birth weight, according to the NHS. Getting the vaccination can protect against these risks.
Measles symptoms
It's also important to be aware of measles symptoms and treatments (opens in new tab) in order to fight it.
These include:
Runny nose
Sneezing
Coughing
Sensitivity to light
Sore or swollen red eyes
Fever
Aches and pains
Loss of appetite
Small grey-white spots on the inside of the cheeks
Call your GP as soon as soon as you or your child presents any symptoms of measles. But it's important, if you can, to avoid visiting the surgery in person, in order to avoid the spread of infection.
The best way to avoid the disease as UK cases increase is to ensure you and your family have received the full set of injections for the vaccine - so if you haven't already, contact your GP ASAP.
Amy is Senior Digital Writer across Woman & Home, GoodTo and Woman, writing about everything from celebrity news to health, fashion and beauty features. When she isn't obsessing over the latest dress drop from Marks & Spencer, you'll most likely find Amy out running, or with a cup of tea in hand ready to dive into a gripping new Netflix series.