'I'm addicted' The cookbook that's transformed Melanie Sykes' figure
Mel Sykes is looking better than ever, and it's all down to her latest exercise routine...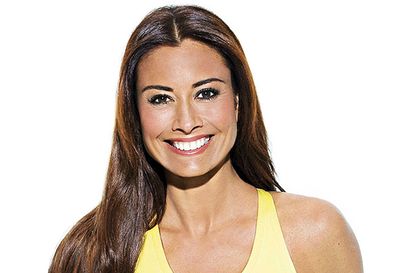 Mel Sykes is looking amazing. In fact, she's positively glowing!
And it's all down to the television presenter's diet and exercise secrets, which she reveals exclusively in this month's issue of Fit & Well magazine, leaving her toned of arm, flat of tummy and feeling better than ever.
Mel admits that she's updated her workout regime of late in line with her age. 'I'm still young,' she tells the mag, 'but you've got to respect that your body is changing, regardless of how fit you are, or you think you are! Your ligaments and joints are ageing with you - you can't defy it, you just have to adapt as you go.'
So how does Mel keep in such amazing shape and take care of her body? She spills the beans...
Workouts that work
Mel says she's limited the number of 'crazy' HIIT (opens in new tab) classes she attends in favour of lower paced exercises like using her exercise bike and TRX suspension trainer. She loves reformer Pilates, and is also a regular at her local barre class.
'It works everything but it's really great for legs, bum and core,' she explains. 'It's intense but there's not too much bouncing around.'
In a previous issue, she admitted, 'There are so many women in that age group that don't wear vests because of the tops of their arms. I don't want restrictions like that. I'd rather work out and wear what I want.'
'It's been a huge confidence and mood booster. It's made the transition into my 40s a lot easier - but I'm never in the gym longer than an hour.'
Mel, pictured here at The Brit Awards, plans to keep up her exercise routine as she approaches 50
Eating well
Mel's also been curbing her eating habits, making simple and sensible swaps at meal times. Instead of saying no to carbs altogther like some celebs, she has 'good carbs' like sweet potatoes and never skips meals either. There's a certain cookbook that's made all the difference too.
'I'm addicted to Amelia Freer's Eat. Nourish. Glow. I haven't lost weight because I'm quite muscular, but I'm definitely a leaner size 10. When I first started it last June I cut out everything she recommends - sugar, dairy, gluten, alcohol and caffeine.'
However, Mel quickly realised she needed the caffeine hit after all, and now just limits her coffees to the morning.
She adds that both of her boys love Amelia's recipes too. 'I do her prawn curry, shepherd's pie and Mediterranean soup. They've got no idea they're healthy dishes! Sometimes I might make myself something separate - if I do have a bolognese, for example, I'll have courgetti while they'll have actual spaghetti, but their diet isn't hugely different to what I eat.
The I'm a Celeb favourite told Fit & Well previously that a 'normal' day will be high protein, lower carb, and a few treats.
'A normal day may be a three-egg omelette but with one yolk, with peppers and spinach', she says. 'Lunch will be a tuna salad with avocado, tomato and lettuce. I cook with coconut oil if I'm having a steak or a chicken breast with kale.'
'Before bed, I may have a bit of Greek yogurt with honey.' Mel also says she's a big fan of cashew nuts - 'I could eat kilos of them!' and chocolate, although she sticks to high cocoa varieties.
New challenges
Mel's never been one to shy away from something different - we know that from her time in the jungle - but her latest task is possible even more extreme. For BBC2's new programme, A Week in the Wild, she's trekked through Copper Canyon in Mexico!
'It was amazing, but very physical,' she recalls. 'I've never trekked before, so I did find it challenging. One trek we did took about seven hours, and then we met some locals who can run it in 90 minutes - they're so fast!'
However, no matter how hard it gets, Mel knows all of the work is worthwhile.
'My exercise is an investment in my health,' she says. 'I don't exercise to change my body shape - it's about me feeling healthy.'
To get to grips with Mel's favourite no-gym workouts, pick up this month's issue of Fit & Well magazine.