'I was taught that scars were "unlady-like" and "ugly" - Michelle Elman on going viral and learning to love her body
Michelle Elman wants to encourage people with scars to embrace their bodies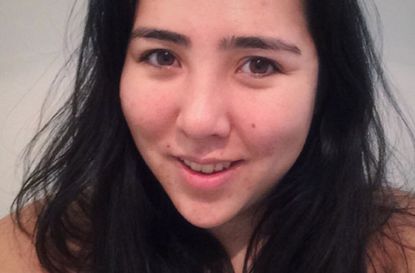 GoodTo newsletter
Sign up to the GoodTo Newsletter. You can unsubscribe at any time. For more information about how to do this, and how we hold your data, please see our privacy policy
Thank you for signing up to . You will receive a verification email shortly.
There was a problem. Please refresh the page and try again.
In July 2015, a picture of Michelle Elman in a bikini went viral (opens in new tab) as she encouraged people with scars to embrace their bodies. Here, as part of our #loveyourbody series, she reflects on what it was like when people all over the world saw her image, and what she learned about herself.
Over the summer, I went viral for a bikini photo in which I showed my scars from having had 15 surgeries. I explained in the Instagram post alongside the picture that despite having had a brain tumour, a punctured intestine, an obstructed bowel, a cyst in my brain and a condition called Hydrocephalus, my scars were what hurt me the most.
The picture going viral was intentional - it was a part of a planned campaign called Scarred Not Scared, a passion project that I had planned for 6 months. But it was also a 10-year-old goal to get the conversation about surgery scars started.
The picture of Michelle which went viral last summer
I remember aged 15, Googling "How do I tell people about my scars?" At 18 it was, "How do I tell people at university about my scars?" and then the following year, "How do I tell my boyfriend about my scars?" Lots of searching, no answers and a growing feeling of isolation.
Until this year, there didn't seem to be a single person discussing it. At the time of sharing the photo, I had become a newly-qualified life coach and sharing my story to empower others was of the utmost importance to me. I didn't want to just be talking about my scars - I wanted to lead by example. Firstly, I wanted to show my clients the scars I had been endlessly discussing and second of all, I wanted to be that person for the teenagers, who like me were feeling alone in their struggles to accept their scars.
Michelle wants people with scars to feel proud of their bodies, like she does of hers
In the post, I explained that I couldn't understand was how in the last five years I had grown to love my body, but there was still a hidden shame and embarrassment that came alongside my scars. A lot of it was learnt, from looks of disgust and pity and being taught that scars were "unlady-like" and "ugly" - and the rest of it? Well it just comes from the trauma of growing up in hospital - and once my image was seen by thousands of people around the world, I had a realisation.
A lot of the hatred around my scars was tied up with the anger around my illnesses. My scars were merely a representation of times in which my body limited my mind. Times when I couldn't do what others did or was stopped from doing what others loved and that epiphany was liberating and made me realise there is so much more to discuss around medical trauma and surgery.
With the campaign came an outpouring of messages from people who, like me, had scars, and felt there was no one else out there in the same position. That one picture has led me into a world of opportunities - I am currently writing a book about my experiences, capturing the moments that can't be shared in the 2200 characters allowed on Instagram, and speaking to school audiences to urge them to speak kindly to themselves internally.
Michelle has since appeared on television to talk about body confidence, and is making a Scarred Not Scared film of her own
In my life now, I'm doing an amalgamation of everything I set out to do, culminating in a job that I couldn't be more passionate about. So if you saw my picture and had a kind word to say - thank you. I am beyond grateful for all the support my campaign has received this year. And you haven't seen the last of Scarred Not Scared yet.
[instagram]
Michelle Elman is a qualified life coach - find out more about her work at Mindset for Life (opens in new tab). You can also follow her on Instagram (opens in new tab).
In 2016, Michelle used her experiences to create a video around the Scarred Not Scared campaign, telling the story of five others whose scars have affected their life, and to share the message, 'It's not about what happens to you. It's what you make from what happens to you.'