'People with scars can't wear bikinis' Meet the woman who's proving the bullies wrong
Michelle Elman defied bullies who 'pitied' her for wearing a two-piece in the bravest possible way.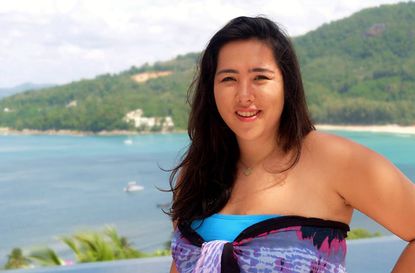 Image: Facebook/Michelle Elman (opens in new tab)
Michelle Elman spent 21 years thinking she couldn't wear a bikini.
Whether it's a body part we're particularly unhappy with, a patch of cellulite we'd rather keep covered or even just a general feeling of exposedness, many of us feel self-conscious in swimwear, but Michelle had a rather particular battle to fight - accepting and embracing scars from fifteen surgeries she'd endured throughout her young life.
The 21-year-old body confidence coach shared a picture of herself in her two-piece swimwear on her social media pages, explaining why it had taken her so long to take the plunge - and how fantastic she felt now that she had.
Image: Facebook/Michelle Elman (opens in new tab)
'PEOPLE WITH SCARS CAN'T WEAR BIKINIS' she wrote underneath the image.
This is what I have believed for the last 21 years of my life and when asked in January why I never wear bikinis, this horrible sentence came out of my mouth. I was shocked - at myself! I had had 15 surgeries, a brain tumour, a punctured intestine, an obstructed bowel, a cyst in brain and have lived for the last 21 years with a condition called Hydrocephalus yet somehow my scars have always been the hardest part. They make already awkward moments in your adolescence even more uncomfortable - like taking your top off for the first time in front of your boyfriend, and made me feel even more isolated in a world where I felt no one could understand.
Michelle explained that childhood experiences had caused her to form negative associations with her scars.
At age 7, I tried on my first bikini and after receiving a range of reactions from disgust to pity, it soon became easier to hide away and be doomed to a life of tankinis and one-pieces. Why did I believe this? Because over the years, I have learnt that my scars make people uncomfortable. I had become ashamed of my body and soon other people's disgust became my own and this was allowed to be the case because of one simple reason - I had no one to talk to about it.
More: 'Why fat girls shouldn't wear bikinis' Plus-size blogger's defence goes viral (opens in new tab)
Well in January, I started to talk about it - all of it, and I want other people to join in on the conversation. Every human has scars, whether there are emotional and physical - they are part of our story and we should be proud of them.
About a month ago, I finally faced up to wearing a bikini and although, I love my body thoroughly and have for many years - this was one of the most difficult things I have ever done, yet once it was on, it was one of the most liberating feelings to know that I wasn't letting two pieces of material stop me from being comfortable in my own body. My belief is that no one should have to feel ashamed of their body, whether you have stretch marks or a C-section scar so... THIS summer, let's stand up and be proud of our scars and what they represent - a story! Michelle also made a video that explains her struggle in more detail:
http://www.youtube.com/watch?v=-SA8fdJW2oI Since posting her picture, Michelle has had an incredible response, and hundreds of positive comments from her followers:
Image: Facebook/Michelle Elman (opens in new tab)
She says that she loves this comment in particular, because it made her notice something new and positive about her body that she might never have noticed.
'Apparently my stomach is smiling!' she exclaimed. 'I had never seen it like that! What makes me laugh about that comment is I always say that the beauty of your body is there, you just can't see it yet! Who knew there was something I wasn't seeing #scarrednotscared'
What a gorgeous attitude from a gorgeous girl! Michelle, we'll hit the beach with you anytime.
Trusted, informative, and empathetic – GoodTo is the ultimate online destination for mums. Established in 2007, our 15-year-strong archive of content includes more than 18,000 articles, 1,500 how-to videos, and 7,000 recipes.