'Numbers don't mean anything' Size 20 woman's viral pic proves why dress size labels don't matter
'I think I look better and happier now!'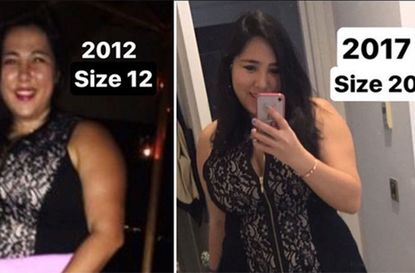 One woman's image has gone viral after proving exactly why dress sizes shouldn't matter.
Body confidence coach Michelle Elman shared a picture of herself to her Instagram account to highlight the fact that she could fit into a size 14 dress she'd owned for years at both a size 12, which she was previously, and at her current size 20.
'I found a dress in my cupboard the other day that I had since I was in sixth form,' she explained alongside the candid snap. 'The dress is a size 14. I bought it 5 years ago when I was a size 12. Now, I'm a size 20. And yet, I still fit it.
'Which just proves that NUMBERS DON'T MEAN ANYTHING. So are you really going to let a change a dress size dictate your day? Are you really going to let an increase in a number affect your mood?
'Same dress. Still comfortable. Still beautiful. (In fact, I think I look better and happier now!)'
She goes on to list all of the reasons why a shifting dress size should never affect how you feel about yourself as a person, and notes that it doesn't even mean your body has changed: 'You could go up a dress size by simply changing stores... (or countries). You can change dress sizes because of the time of the day or simply due to whether you are on your period or not.
'If you look at your cupboard and you find it harder and harder to find something to wear because of a change in clothing size, I have a great solution for you... throw out all clothes that don't fit,' she advises. 'Looking at your wardrobe shouldn't be something that makes you feel insecure and sad so make sure everything in your wardrobe fits!
'Numbers don't matter. Not the number on the back of your jeans, on the scale or even the number in your bank account. You are not a number.'
Michelle's post was met with applause from many of her followers, with one writing: 'This post is amazing. This weekend I bought a load of new clothes. All the same size from different stores. About 1/3rd fit, 1/3rd was too small, and the rest was too big. None of it makes any sense.'
'Such a great post, I agree it seems to fit you better now and you definitely look happier and more confident 💪🏽,' another added.
However, some commenters questioned whether Michelle was truly a size 20 in the second pic, to which she quickly responded with a follow-up post that presented an equally confident representation.
'When you say I look good for a size 20, it usually means I look skinnier than a size 20 which still sends the message: thin = good, fat = bad,' she said, addressing the critical remarks.
'I am a U.K. Size 20. It is a fact that changes depending on which store but the majority of my clothes are size 20. That is a fact. This assumption that I'm lying is contingent on your perception of what a size 20 looks like. This perpetuates the idea that fat equals ugly or unattractive which is most definitely DOES NOT!'
Trusted, informative, and empathetic – GoodTo is the ultimate online destination for mums. Established in 2007, our 15-year-strong archive of content includes more than 18,000 articles, 1,500 how-to videos, and 7,000 recipes.