On Dublin Street by Samantha Young - review
On Dublin Street has made the New York Times bestseller list, but what did we think? Read our honest review...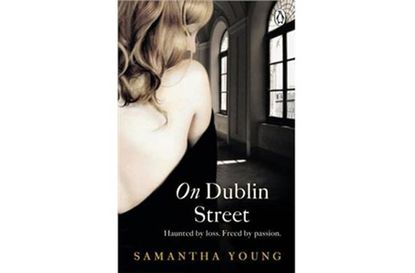 GoodTo newsletter
Sign up to the GoodTo Newsletter. You can unsubscribe at any time. For more information about how to do this, and how we hold your data, please see our privacy policy
Thank you for signing up to . You will receive a verification email shortly.
There was a problem. Please refresh the page and try again.
What's On Dublin Street about? Another addition to the erotic romance novel craze, On Dublin Street follows the up and down relationship of damaged character, Jocelyn (Joss) Butler, and tough, handsome Scotsman, Braden Carmichael. When Joss loses her entire family in a car crash at 14, she leaves America to start a new life for herself in Edinburgh, determined never to form attachments and never let anyone in on her past. Until, that is, she moves into a new apartment and meets sweet and friendly Ellie, and her overbearing older brother Braden. There's an instant attraction between the pair, but with Joss's reluctance to start a relationship, the couple form a no-strings attached arrangement that suits them both. But when it quickly becomes clear that mind-blowing sex isn't enough for Braden, will Joss run for the hills, or stay and let Braden in on her demons?
goodtoknow says: Although this book has a very similar plot to Fifty Shades - we thought we might be bored of it by now - we have to admit we loved it. The main characters are pretty much Fifty Shades' Ana Steele and Christian Grey; young, reserved female meets headstrong, wealthy alpha male, only in this book Joss is the damaged character (rather like Christian in Fifty Shades) and it takes meeting Braden to heal her. There are some pretty passionate sex scenes, so it's one you'll want to hide from little hands, but overall the plot to this tale is more romantic than erotic (not a whip or chain in sight!). Joss' journey to lay the memory of her parents deaths to rest really pulled at our heart strings, along with the other twists she has to face along the way. But the true genius of this book is Braden. He's tall, rugged, handsome, and Scottish (think Gerard Butler) and underneath that tough exterior is quite a gentle soul, and coincidentally, a rather nice body... A really great 'couldn't put it down' read.
Rating: 8/10 You'll like this if you liked: Fifty Shades of Grey by E L James
Publisher: NAL Trade Publish Date: Out now
Buy it on Amazon now (opens in new tab)
More book reviews in the goodtoknow Book Club. Have you read On Dublin Street by Samantha Young? If you have, tell us what you thought of it by publishing your review in the comments box below.
Where to next?
Jill Mansell's Dont Want To Miss A Thing - review
Jodi Picoult's The Storyteller - review
Gemma Chandler is a lifestyle writer specialising in kids' educational media across a range of topics including nature, history, science and geography across digital, print, social media and video channels. She joined Creature & Co. at 2015, shortly becoming Digital Editor of National Geographic Kids magazine.