The 7 place names we've been pronouncing wrong all this time
We bet you won't get Godmanchester right!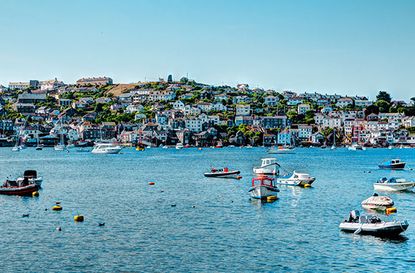 Have you ever found yourself staring, puzzled at a road sign, mouthing the seemingly-obvious syllables to yourself trying to work out why something seems wrong?
Or perhaps you've been talking to someone about a place and they suddenly throw a completely different pronunciation in the mix, leaving you feeling mortified at how many times you've told this story and said the place name wrong?
We completely feel your pain, which is why we've decided to get to the bottom of those tricky mispronunciations of places for good! From the remote and rural to the capital city, how many of these place names have you been saying all wrong?
Bicester
The small and sleepy town of Bicester is best known for its giant discount shopping outlet, Bicester Billage. Here avid bargain-hunters flock from around the UK to get their mitts on some discounted designer clobber. But have all these fashionistas been pronouncing the place of their pilgrimage wrong? It's actually a lot simpler than you would imagine, missing out that tricky 'ce' sound in the middle.
Common pronunciation: Bi-ses-ter Correct pronunciation: Bis-ter
Cholmondeston
Cholmondeston is a pretty village in the county of Cheshire, heading into the North of England. With its rural charm and accessibility to the popular town of Chester not too far away, it's somewhere you might want to visit – but good luck getting there! This truly baffling pronunciation will have most drivers confused if they're looking for a place that's spelt like it sounds...
Common pronunciation: Chol – mon – des - ton Correct pronunciation: Chum-ston
Fowey
This seaside town is located at the southern tip of the country, within the county lines of Cornwall. With beautiful sea views and close to holiday spots such as St. Ives and Newquay it's the perfect place for a weekend away with the kids. But maybe you should learn how to say it first?
Common pronunciation: Fow – wee Correct pronunciation: Foy
Holborn
Taking a trip to central London? There's lots to do in the Holborn area, museums, restaurants, hotels – it's all going on! But you could be forgiven for missing your stop if you're listening out for this tricky-to-pronounce place!
Common pronunciation: Hol-born Correct pronunciation: Ho-born
Godmanchester
Prepare yourself; this one is a real curve ball. It sounds like a holier version of our largest Northern metropolis, but Godmanchester could not be more different. This small town is part of the picturesque area of Cambridge and gets a lot of its pretty views from sitting on the edge of the River Great Ouse. Despite its rather long name, it has a pronunciation that is much easier.
Common pronunciation: God-man-chester Correct pronunciation: Gumster
Salisbury
Widely known for its historic links, Salisbury boasts some impressive landmarks. From the beautiful Salisbury Cathedral to the iconic prehistoric stone circle, Stonehendge, just nine miles away, we can see why you'd want to visit! But before you start swatting up on your history, make sure you don't feel silly in front of the locals and learn how to say it!
Common pronunciation: Sal-is-bur-ee Correct pronunciation: Sols-bri
Marylebone
One of the most glamorous and iconic parts of London, Marylebone is a name you'll definitely know – even if just from the Monopoly board... but do you know how to say it? This swanky West-London post code is home to the likes of Westminster and the West End with hundreds of thousands of people bustling through its streets every week.
Common pronunciation: Mary-lee-bone Correct pronunciation: Marl-lee-bone
How many of these place names have you been pronouncing wrong? Let us know in the comments below!
Trusted, informative, and empathetic – GoodTo is the ultimate online destination for mums. Established in 2007, our 15-year-strong archive of content includes more than 18,000 articles, 1,500 how-to videos, and 7,000 recipes.