12 definitive signs your other half is a keeper
Have you snagged yourself a man who ticks off any of these points? If so, congrats!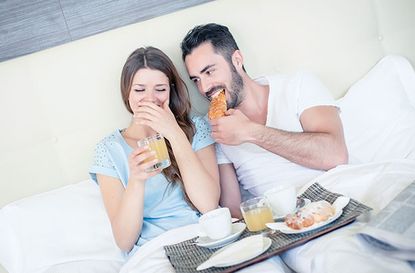 Whether you're in a relationship or looking for love, it can be hard to know just what makes a man worth holding onto.
You might get annoyed with his quirks (why does he have to snore SO loudly?!) and struggle with your different outlooks (no, watching the footie all Sunday afternoon is not how you'd planned to spend the day), but sometimes your instinct tells you to stick with him because you just know he's a 'keeper'.
Dr Pam Spurr, a self-help and relationship expert, interviewed lots of singles for her new dating guide about things like what had gone wrong in past relationships and what they were looking for. What she discovered was the shocking reality of how many people regretted giving up really good relationships, real 'keepers', thinking the grass would be greener.
In her work she also regularly talks to women who are married or in committed relationships. Those who are happiest are often those who appreciate that the little things he does signify the depth of his love.
We're not talking about the things that should come as a given when in a relationship, like respect and kindness, but instead the other things he does that all mount up to the fact that he is, in fact, a keeper.
Take a look through these 12 signs and see which ones apply to your other half!
He's a keeper sign. 1:
He makes you a cup of tea without being asked.
Sure, plenty of men will make you tea when asked but this man just wants to do this for you. He gets to know that you, for instance, love an extra cuppa on a Saturday afternoon at 5pm.
He's a keeper sign. 2:
He asks to say hello to your mum when you're on phone to her.
Wow, how many other men have avoided talking to your mother like the plague? But when he does this you could be knocked over by a feather - it means so much to you that he cares about her!
He's a keeper sign 3:
He rings just to see how you are, just because he wants to.
Those spontaneous calls asking how your day is, what you're doing, and just to be with you on the other end of the phone, make your day.
He's a keeper sign 4:
He makes you laugh when you've had a tough day.
He can tell by the look on your face you need a hug. And then he'll say something a bit cheeky about your difficult manager at work that makes you crack a smile.
He's a keeper sign 5:
He wants to know what makes you tick in bed.
This man doesn't assume you're like his last partner, he actually asks how he can please you. Go for it, don't be shy!
He's a keeper sign 6:
He gives you the best nickname ever.
You both end up with nicknames that are personal to you two, and might be silly, but that have a special meaning! Although maybe don't tell the whole pub you secretly call him 'bunny bear'...
Is your other half a keeper? Hopefully he ticks off a couple of these!
He's a keeper sign 7:
You're not feeling at your best but he spontaneously says 'hello gorgeous'.
This guy thinks you're gorgeous no matter what (yes, even after you were up all night with the little 'us and you have a horrible cold!). Because you are, and he loves you inside and out.
He's a keeper sign 8:
He randomly makes breakfast in bed for you.
And not because he wants anything in return!
He's a keeper sign 9:
He never liked cats but then met yours.
Like some sort of miraculous human-animal love story, he gave your cat a chance. Now he loves Felix as much as you do.
He's a keeper sign 10:
He doesn't really like your best friend but he makes her feel welcome in your lives.
You met her back at uni or in your first job and he wouldn't have chosen her for a friend. But that doesn't stop him from being gracious to her.
He's a keeper sign 11:
He'd never dream of commenting when that time of the month sends you into temporary chocoholism.
You munch on chocolate like there's no tomorrow. Even if you think you could do with losing some weight - and you wished you hadn't given in to cravings - he'd never suggest that.
He's a keeper sign 12:
He's says something so sweet, just when you need to hear it.
You show him two outfits you can't decide between. You ask for his opinion and he gives you the right answer - he tells you that you look fantastic in both.
For dating advice, covering everything from first dates to online dating, Dr Pam's brand-new book: THE LAWS OF SISTERHOOD - The girlfriends' guide to successful dating and finding the one is out now Dr Pam is also on Twitter @drpamspurr
Parenting advice, hot topics, best buys and family finance tips delivered straight to your inbox.
Trusted, informative, and empathetic – GoodTo is the ultimate online destination for mums. Established in 2007, our 15-year-strong archive of content includes more than 18,000 articles, 1,500 how-to videos, and 7,000 recipes.