Angelina Jolie opens up about divorce from Brad Pitt
It was the mum-of-six's first interview since the split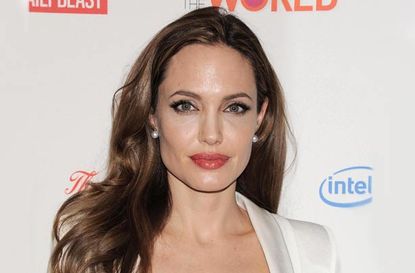 Angelina Jolie has opened up about her relationship status for the first time since her split from Brad Pitt.
Angelina's lawyer, Robert Offer, confirmed news that the star began the proceedings for 'dissolution of marriage' back in September, saying the 'decision was made for the health of the family' - and now Angelina has given her first interview since the announcement was made.
Speaking to BBC News, the 41-year-old became visibly emotional, explaining: 'It was very difficult.'
'Many people find themselves in this situation. My whole family have all been through a difficult time.'
'My focus is my children, our children. We are and forever will be a family and so that is how I am coping. I am coping with finding a way through to make sure that this somehow makes us stronger and closer.'
When asked about a rumoured incident that reportedly sparked the decision to seperate, she added: 'I don't want to say very much about that, except to say it was a very difficult time and we are a family, and we will always be a family.'
It is believed that Angelina and Brad first started dating in 2005 on the set of Mr and Mrs Smith, and the pair married in a private ceremony in August 2014.
The couple have six children together: Maddox, 15, Zahara, 11, Shiloh, 10, Pax 12 and twins Knox and Vivienne aged 8.
Maddox, Zahara and Pax were adopted from orphanages from Cambodia, Ethiopia and Vietnam, while the other three are the couple's biological children.
According to a report from The Sun back in 2016, Brad and Angelina had been living separate lives for a few months, after having a number of arguments over their children and the future.
A source told the paper: 'Angelina is very unhappy with the marriage and is considering splitting from Brad. There have been rumours around the status of the relationship for years, but they are now very much in turmoil and it is hard to see a way out.'
'There have been a constant string of arguments about their future and their children.'
'They have come through a lot before and somehow managed to keep up appearances but Brad thinks this time is different.'
The pair made their last public appearance at the premiere of By The Sea, the film written and directed by Angelina about an unhappy couple, in November 2015.
Most recently, Angelina had been focusing on her humanitarian work as a special envoy to the UN, while Brad, 52, has been negotiating a deal to launch a resort in Croatia.
Charlotte Whistlecroft is a former Family writer at GoodTo. She obtained a BA in Theology and Theological Studies at Durham University, going on to study a masters at City University London in 2016. Since leaving GoodTo she has worked as a Social Video Researcher at Mail Online and is now Assistant Producer at BBC Sport.