The cost of divorce
How much does it cost to get divorced in the UK? We run through the fees there's no avoiding when you've decided there's no future for your marriage.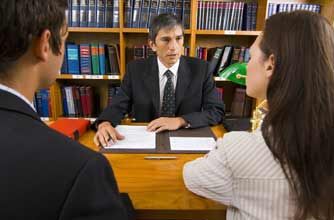 So what is the cost of a divorce? Well, that's a bit like asking how long is a piece of string. Everyone's circumstances are different and there are as many types of divorce as there are marriages. We look at some of the costs involved in obtaining a divorce and what, if anything, can be done to limit them.
Someone once said that divorce is the one human tragedy that reduces everything to cash and, while divorce is bound to take an emotional toll on those involved, there are also some financial implications and unavoidable costs that will need to be met along the way to a decree absolute.
Degrees of separation
In some divorce cases there may be complicated custody issues, maintenance issues and/or issues surrounding the division of assets. If there's disagreement between the two parties then this may prove a costly process with hefty solicitors' fees mounting up on both sides. Other cases may be more straight forward when the couple want nothing more than a legal dissolution of the marriage. In cases such as this, a DIY divorce without the need for legal representation or assistance is entirely possible.
Fixed divorce costs
There are certain fixed costs that are inevitable when going through any divorce. These vary depending on which part of the UK you live in
Divorce court fees in England & Wales
The court fee for filing your Divorce Petition: £410 The court fee for obtaining your Decree Absolute: £45 (you don't need to pay this fee if you started your divorce proceedings after 1 July 2013, as this fee is now part of the fee for starting the divorce).
Divorce court fees in Scotland
The court fee for a simplified divorce: £107 Ordinary divorce: The court fee for lodging an action of divorce is £141 and there is a further fee payable for minuting the decree, currently £62.
Application for a financial order
The court fee is £255 if you and your spouse have not agreed to the arrangements before you make the application.
Application for a consent order
If you're applying for 'consent order' - a legal document that confirms an agreement you have already made – the court fee is £45. Of course if there may be no assets to divide.
DIY divorce
As a matter of general principle in English law anyone is entitled to represent themselves in court, but in many cases this would be ill-advised. However, if your divorce is straightforward, uncontested (i.e. your spouse is not defending your divorce petition) and there are no arguments over financial matters or child custody issues, then you may well be able to manage your own DIY divorce. You can get all the forms and guidance notes for free from any family county court or at gov.uk/divorce (opens in new tab).
Solicitors' fees
Of course not all divorces are going to be this straightforward and in many cases legal advice is the best idea. Legal costs vary greatly from case to case and are dependent on the solicitor you choose, the complexity of the case and the level of dispute between you and your spouse. But it's worth remembering that lot of unresolved bitterness coupled with 'you-against-me' approach can cost a small fortune with tit-for-tat solicitors' letters flying to and fro. Even the cheapest solicitor-led negotiation is likely to cost £2,000 to £2,500 plus VAT but more usually the costs rise to between £5,000 and £10,000.
Fixed Fee Divorce
You may have seen a lot of law firms offering 'fixed fee' divorces which typically range from £900 to £1500 (including VAT and court costs). However, fixed rate packages don't include representation for disputes over children or finances. If you want a solicitor to represent you on these matters they will almost certainly charge you at their normal hourly rate. Given that this can be anything from £180 an hour, it's easy to see how solicitors' bills can quickly escalate.
Mediation: a better option?
As of April 2011 new rules took effect which required all separating couples (apart from those where domestic violence has been an issue) to consider mediation before applying to the courts in connection with a dispute over their financial affairs or issues regarding child contact agreements. This means that couples have to attend at least one Mediation Information and Assessment Meeting before their case can progress to court. This initial meeting costs between £25 and £80. If after that you do decide to embark on a process of mediation you can expect to attend several further sessions for which there will be a charge. However, National Audit Office figures show that mediation is a cheaper, quicker option. The average length of time for a mediated case to be completed is 110 days, compared with 435 days for court cases on similar issues; and where cases are publicly funded, the average cost per client of mediation is £535 compared with £2,823 for cases going to court.
So what is mediation?
If you decide to go down a mediation route, you and your partner will have a series of face-to-face meetings in the presence of an impartial trained mediator. It is their job to help guide you towards a resolution. Many divorcing couples are put off mediation because they confuse it with relationship counselling, but this isn't the case. The starting point for any mediation session is the assumption that the relationship has irretrievably broken down. Mediation is simply about enabling the couple to reach agreement themselves over their financial affairs and their children.
Legal aid
At the moment those eligible for legal aid will get state help with part or all of their legal costs. Legal aid is funded through the Legal Services Commission(LSC) and acts like a loan so you may be required to repay your legal costs from money or property you receive with the help of legal aid. This is known as the statutory charge.
However, you won't have to pay the statutory charge if your solicitor believes this would cause you serious hardship or distress or it would be too difficult to get you to pay up.
If you do have to pay the statutory charge, you can delay payment if the property you won or kept is your home or the home of your dependants; or the money you won or kept is to be used to buy a home for yourself or your dependants. Your solicitor or adviser will give you more information about the statutory charge before you decide to go ahead with your case.
Changes to the legal aid system
Huge reforms took place to Legal Aid last year which saw an end to legal aid for many divorcing couples on low incomes. As of April 2013 state-funded legal advice for spouses arguing over wealth or custody of their children will be limited to cases that involve domestic abuse.
Where to next? - How to survive a break-up - 10 reasons it's great to be single - How to tell the kids you're getting divorce